Anzac Day 2019 Art Competition - HOMECOMING
In 1919 Australian, New Zealand & Irish soldiers and nurses began to return home from the First World War. Many did not return and those who did struggled to adjust. The effects of this war were not limited to those who had fought but also impacted the lives of families, friends and communities who dealt with the physical and mental trauma of war affecting those they loved.
Every year Australians and New Zealanders mark Anzac Day, the anniversary of the first major military action fought by Australian and New Zealand forces during the First World War at Gallipoli in 1915 - a campaign where thousands of Irish soldiers also served along side our ANZACS.
This year our Embassies are running a special art competition to design the cover of the Program Booklet for our annual Dawn service on Thursday 25 April 2019 in Grangegorman Military Cemetery.
The theme for our Anzac Day 2019 service is HOMECOMING
We invite children and adults of all ages to submit a design for the front and back cover of our Anzac Day dawn service commemorative booklet, using art to explore the sometimes difficult journey home shared by all of those who lived through the First World War.
Entries close 12 April 2019
Competition Details
What do we want? For you to design the front or back cover (or both) of our Program Booklet
What kind of design are we looking for? The design is up to you but should be related to our theme of homecoming to remember not only the soldiers involved but the many others that war has touched. A powerful symbol that we like to use at our Anzac Day ceremony in Dublin is the rosemary. Traditionally, sprigs of rosemary are worn on Anzac Day and it has a particular significance for Australians and New Zealanders, as it is found growing wild on the Gallipoli peninsula.
Below is an example of what our previous covers were like, but your design doesn't have to be exactly like this. It should include some detail of what the cover is for (Anzac Day Dawn Service, location and year)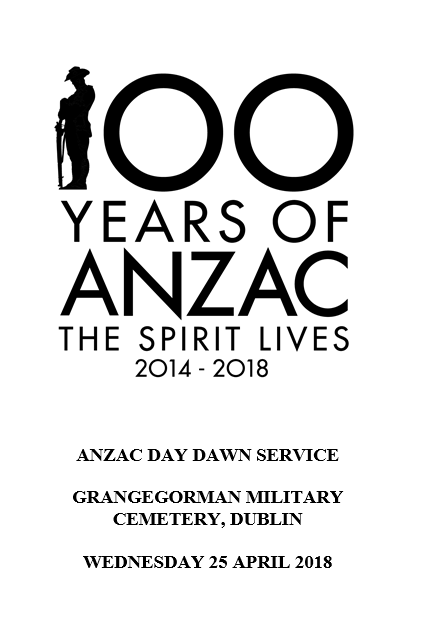 Size: A5 - either black or white or colour
Closing Date: 12 April
Send entries by post to:
Anzac Day Art Competition
C/O Australian Embassy Ireland,
47 - 49 St Stephen's Green
Dublin 2
Send entries by email to: [email protected]
What do you get? Apart from bragging rights and seeing your designs on our program booklet, if you are in Ireland and can come to our ceremony on 25 April, then we have a special wreath that we would like to you to lay on behalf of the many visitors to the Embassy in Dublin. There might also be a special prize for any of the younger winners.
Fine Detail: The Embassy reserves the right to be the sole judge of the winner(s) of the competition. Judgement criteria will include but not limited to: artistic design; comptability with the theme of homecoming; effort put into the design; and overall fit with Anzac Day. By entering you agree that the Embassy can reproduce your submitted work in the Anzac Day program booklet, on our website and social media. Any prizes awarded will be at the discretion of the Embassy and will be limited to any children under 18 that enter and their design is selected.
Anzac Day Fact Sheet
What is Anzac Day? The date itself (25 April) marks the anniversary of the landing by Australian and New Zealand soliders - the ANZACS - on the Gallipoli Peninsular in 1915, the first major military action fought by both countries during the First World War.
Why is this day special to Australians and New Zealanders? The Gallipoli landings may have led to a military defeat, but for Australians and New Zealanders then and since, the Gallipoli campaign left a powerful legacy. What became known as the "Anzac legend" became an important part of the identity of both nations, shaping the ways in which they viewed both their past and their future.
What links does Anzac Day have with Ireland? Gallipoli was a key campaign for the Irish fighting in the First World War. Men from every county in Ireland were present. Some 12,000 Irishmen fought at Gallipoli in Irish regiments (and more also in others), and approxmiately 4,000 of them never returned home.
Online Resources about Anzac Day