Australia in Brief
The Australian continent is a unique land, full of contrasts. It is the earth's biggest island and the sixth-biggest country in the world in land area. Australia is the only nation to govern an entire continent.
Today, Australia is a stable, democratic, culturally diverse nation with a skilled workforce and a strong, competitive economy.
Australia in brief provides an authoritative overview of Australia's history, the land, its people and their way of life. It also looks at Australia\'s economic, scientific and cultural achievements and its foreign, trade and defence policies.
You can find the full contents of this amazing book at http://www.dfat.gov.au/aib/
You can download the full book as a pdf by clicking here.

Resource kit for schools
The Australian Embassy's Indigenous Resource Kit offers Irish school children a rare opportunity to learn about Aboriginal Australia. The Kit is contained in a large wheeled case and two plastic tubes. It contains artifacts, such as didjeridoos, boomerangs and digging sticks, as well as books, DVDs, CDs, flags, large scale maps and teaching materials.
The Kit is available for loan free of charge in two week blocks to approved applicants, however they will need to make their own arrangements for the transportation of the Kit to and from the Embassy, bring two people along to carry the Kit and sign an indemnity form before the Kit is released. To make enquiries and applications call the Embassy on 01 664 5312 or email austremb.dublin@dfat.gov.au.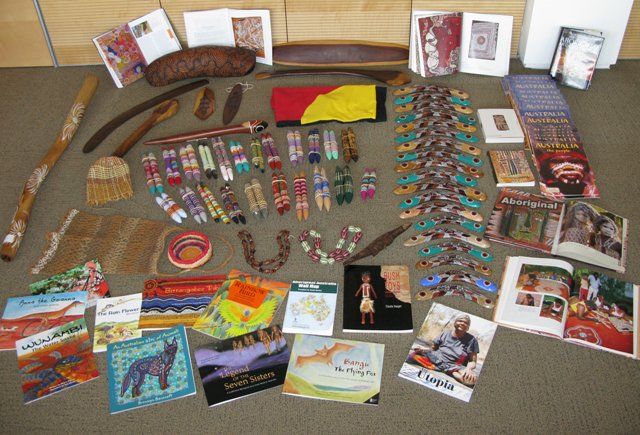 Foreign policy
For an overview of global Issues concerning Australia please see here.
Trade policy
The Australian Government`s ambitious trade policy is geared towards increasing economic activity, creating jobs and getting a fair deal for Australia in the international marketplace. This all adds up to more jobs, more choice for consumers, and a higher standard of living for all Australians. Please see the DFAT Trade Policy and News Page site for more details.
australia.gov.au
Access to Australian Government information and services.
Phone directories
Frequently asked questions about Australia
Can I have a quick introduction to Australia?
Australia is an independent democracy with a population of 20,578,758 people (as of 12 July 2006, based on the latest projections of the Australian Bureau of Statistics). It is one of the world\'s most urbanised countries, with about 70 percent of the population living in the 10 largest cities. Most of the population is concentrated along the eastern seaboard and the southeastern corner of the continent.

ABC Radio Australia has an exciting website called Understanding Australia. It aims to provide international students, visitors and backpackers with information about the continent and its people.

How large is Australia?

Australia is the only nation to occupy an entire continent. Its land mass of nearly 7.7 million square kilometres is the flattest and, after Antarctica, the driest of continents, yet it has extremes of climate and topography. There are rainforests and vast plains in the north, snowfields in the southeast, desert in the centre and fertile croplands in the east, south and southwest. About one third of the country lies in the tropics. Australia has a coastline of 36,735km.

Where can I get information on the Australian environment and wildlife?

Department of the Environment and Australian Geographic.

How can I find a job in Australia?
The Embassy does not carry employment information nor provide advice on employment prospects or placement, so you will need to make your own independent enquiries. The only way you can work full time in Australia is through permanent migration (on the basis of skill and/or close relatives in Australia) or specific long term temporary entry to conduct business or perform employment for which you have been sponsored. A working holiday visa scheme is available for Irish citizens, and the citizens of some other countries, who are under the age of 31. Please see Visas and migration.

How can I have my trade recognised in Australia?

The Department of Employment provides trades assessment services for trade skill certification and for pre-migration purposes.

Can I drive in Australia on an Irish driver's licence?
Tourists:

The common policy of the relevant licensing authorities of the Australian States and Territories is that, where a person is a visitor to Australia, the visitor is permitted to drive in a State or Territory if the visitor holds a current licence to drive a motor vehicle which is issued in English. If the licence is not issued in English, the visitor will also need to carry an International Driving Permit (IDP) at all times while driving. A visitor will then be permitted to drive a vehicle of the type or class to which the licence is applicable.

Migrants:

If you are migrating to Australia and intend to drive, you should inquire about obtaining an Australian driver's licence from the road traffic authority in the capital city of the State or Territory in which you intend to reside. You should do so, regardless of whether you hold a valid Irish driver's licence. Your queries should be addressed to the appropriate driving licensing authorities. Each State and Territory has its own regulations regarding application and issue of drivers' licences. Procedures for obtaining a driver's licence may include an examination in traffic laws, a practical driving test, an eyesight and hearing test and payment of a licence fee.

International driving permit (IDP) issued in Ireland:

If you hold an Irish driving licence, an International Driving Permit may be obtained from your local AA office. The permit is usually valid for one year or the length of validity of your licence, whichever is less.

Where can I obtain information regarding taxation in Australia?
The Embassy can provide the latest Tax Pack for people who wish to lodge Australian tax returns. Any enquiry regarding taxation should be directed to the Australian Taxation Office.

What do I need to do if I wish to get married in Australia?

There is no residential qualification required nor does one need to be an Australian citizen or resident to marry in Australia.

You first need to contact a Marriage Celebrant (i.e. the person who will perform the marriage ceremony).

The Celebrant will require a 'Notice of Intended Marriage' at least one month and one day prior to the ceremony. Both parties to the wedding must have their signatures on this form wittness by an Embassy official.

The form can be downloaded from the Attorney-General's Department. If it is not possible for both parties to sign the form when notice is required to be given, one signature will suffice but the second person must sign in the presence of the celebrant before the marriage is solemnised.

Please note that there is a charge for this service and the applicants will need to bring their passports with them.

How do I get a police clearance for the time I spent in Australia?

To obtain a police clearance for any period of time you spent in Australia you need to apply to the Australian Federal Police. They will require you to complete a 'Criminal History Check' application form. See also Police Clearance.

I have received a letter from a group claiming to be the Australian lottery, is this legitimate?

No. A number of organisations are promoting, what purport to be, "Australian lotteries" to people in Ireland. Some of these organisations claim that the lotteries are guaranteed by the Australian Government. This is false. The Australian Government does not operate any guarantee in relation to lottery prizes.

Persons receiving material from organisations promoting Australian lotteries are advised to treat this material with caution. Some of these organisations do not have official accreditation and the material supplied by them may be misleading. As the activities of some of these organisations are occurring offshore, they are outside the jurisdiction of the Australian Trade Practices Commission.
What is Australia's national anthem?

Australia's national anthem, Advance Australia Fair, is a revised version of the late 19th century patriotic song. It was declared the national anthem in April 1984, replacing God Save the Queen. Waltzing Matilda, a popular folk song, is often used at Australian functions, but is not the national anthem.

What are Australia\'s national colours?

Green and gold - taken from the colours of Australia's floral emblem the Golden Wattle.

Can you tell me about the Australian flag?

The flag of Australia is the only one to fly over a whole continent. It has a blue field with the Union Jack in the upper quarter next to the flag pole, a large seven point star is positioned under the Union Jack, and to the side are five smaller stars. The Union Jack represents Australia's historical link with Britain, the large seven point star, the commonwealth star, represents the six states and the territories, and the small stars form the Southern Cross, a prominent feature of the southern hemisphere night sky.

What is Australia's coat of arms?

The official emblem of the Australian Government was granted by King George V in 1912. The coat of arms consists of a shield containing the badges of the six States. On either side of the shield is a kangaroo and an emu. A yellow-flowered native plant, wattle, also appears in the design.

What is Australian currency like?

Decimal currency, introduced to Australia in 1966, consists of coins of five, 10, 20, and 50 cent and one and two dollar denomination; and notes of five, 10, 20, 50 and 100 dollar denomination. Australia was the first country in the world to have a complete system of bank notes based on plastic (polymer).
What public holidays are observed in Australia?

All states in Australia observe the main public holidays such as Christmas Day, Boxing Day, Australia Day and Easter etc. In addition to this each state will also observe local public holidays.
What is the the exchange rate?

Please see a currency converter.

How do you phone/fax Australia?

Dial +61 and then the State or Territory code (minus the 0) and then the number. For example, if the number is listed as 02 60000000, then you would dial 0061 2 60000000.

What is the time difference between Ireland and Australia?

Please see the World Clock.

What food do people eat in Australia?

Australian cuisine today reflects the diversity of the country's population. Most of Australia's early settlers came from Great Britain and Ireland and brought traditional recipes and eating habits which have remained. Migration from European countries, particularly Italy and Greece, and from Asia has had a major influence on food availability and cooking styles.

What is the weather like in Australia?

Australia occupies an entire continent. Due to the size of the country the climate changes according to the location. Though one third of the country lies in the tropics, the rest of the country mostly has a temperate climate. The centre of the country is covered by deserts and is extremely arid. Because Australia is in the Southern Hemisphere, the seasons are reversed. Summer is from December to February, autumn from March to May, winter from June to August, spring from September through November. See here for more information.

Does Australia have the same power outlets as Ireland?

No. Power outlets are different in Australia. Stores specialising in travel goods sell power outlet adapters which will enable electrical goods purchased in Ireland to operate in Australian power outlets. The electrical current in Australia is 240 volts, AC is 50 Hz.