Australian Embassy Ireland Newsletter
Aussie Eire Waves is the Australian Embassy Ireland's monthly newsletter that connects the Embassy here in Ireland with the local community.
The aim of the newsletter is to keep you informed of past, present and upcoming events as well as interesting developments in the bilateral relationship between Australia and Ireland both at home and here in Ireland. The newsletter is not only intended for Australians in Ireland but anyone that has a link or even just an interest in Australia, its people and our connection with Ireland.
The newsletter will draw on reporting from the Embassy itself as well as from Canberra and from people like yourself that are doing interesting things in Ireland. If you know of someone or you yourself are doing interesting things in Ireland or Australian that would be of interest to the Embassy and the wider Australia community we would love to hear from you.
Current Newsletter
From the Ambassador
As you will see from the size of this newsletter the past month has been busy and productive for the Embassy with a wide variety of activities in Ireland, as well as visits by Irish ministers to Australia for St Patrick's Day. But all of this activity was overshadowed by the dreadful terrorist attack on two mosques in Christchurch, New Zealand, on 15 March, which claimed the lives of 50 worshippers. Like all right thinking people of all religions we extend our heartfelt condolences and support all those affected by the senseless violence.
My colleagues Simon Mamouney and Therese O'Meally joined me in signing the condolence book at the New Zealand Embassy, on behalf of the Embassy and of Australians in Ireland. Our message: "This attack strikes at us all… we stand with you."
There could be no better symbol of the fellow-feeling between Australia and New Zealand in such times of trouble than the lighting-up of the Sydney Opera House with the silver fern in the aftermath of the incident.

Lighting on the Opera House was also in use in happier circumstances, highlighting the close links between Ireland and Australia by participating in Ireland's global "Greening" campaign. We were delighted that the Minister for Business, Enterprise and Innovation, Heather Humphreys TD and the Minister of State for Housing and Rural Development, Damien English TD visited Australia for St Patrick's Day, and participated in a wide range of community and business events. As I commented in an article on LinkedIn there is no other country in the world whose national day
attracts such celebration in Australia as Ireland's. https://www.linkedin.com/pulse/happy-st-patricks-day-richard-andrews?articleId=6511977340799635457
I was happy to call on the two Ministers to brief them for their visit, wish them bon voyage and present them with Indigenous Australian items of dress to ensure they'd fit in well Down Under.
Also suitably attired after a visit to Australia was Irish Farmers' Association President Joe Healy, who called in to discuss possible ways ahead for the relationship in agriculture. The Embassy sees the current Australia-EU Free Trade Agreement as potentially opening up a range of new opportunities for cooperation in agriculture – one we had not thought of before was how Irish farmers might benefit from market opening for Akubra hats, but we'll add it to the long list.
Defence cooperation is a little-remarked but important part of our relationship. Our shared commitment to the international system means that Australian and Irish armed forces are often on the ground together in peacekeeping operations, and the cultural similarities between our forces give us plenty on which to compare notes. We were delighted to welcome the Irish Chief of Defence Staff, Vice Admiral Mark Mellett, and senior colleagues to Abbey Lea to meet the newly arrived Head of Australian Defence Staff in London, Commodore Guy Holthouse, in Dublin for a
familiarisation visit, along with our designiated Defence Attaché Colonel Sue Graham.
The coming month will see one of the most important events in the Embassy's calendar – our annual ANZAC Day commemoration on 25 April. This year will be particularly special as it marks the first time we will be conducting the event together with a resident New Zealand Embassy in Ireland. One hundred years ago members of the Australian, New Zealand and Irish armed forces would have been coming to terms with the Armistice and preparing to go home – for many, a long journey both physically and psychologically. Our theme will therefore be "Homecomings". We look forward to seeing as many of you there as possible.
Cinema & International Diplomacy – chatting with the creative team behind Australian film The Merger
We were delighted to have The Merger film screening as part of the Virgin Media Dublin International Film Festival and as the only film in the featured tour around Ireland. The Merger was shown in Dun Laoghaire, Drogheda, Cavan, Sligo, Waterford, Newbridge and Dublin. It was great to meet the starring actor and genius behind the story, Damien Callinan, as well as the director, Mark Grentell, and the producer, Anne Robinson.
Making the most of their time in Dublin the Embassy hosted a roundtable with The Merger team and Australian members of the media, Irish film and TV producers and public diplomacy specialists to to talk about the role of media, public diplomacy and how the two can work together.
With so many ties with Australia, Ireland presents a unique platform where Australian films like The Merger, are easily understood by Irish audiences. We also face similar challenges, like promoting tolerance and understanding in society, where film, TV and media can play an important role, including with government and government officials. The film tells an engaging story of refugees in a rural Australian town rescuing the local Aussie rules football team.
Rock the Vote – Australian Federal Elections 2019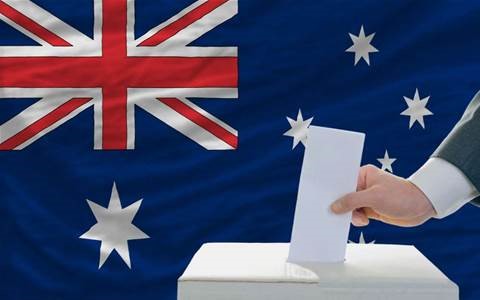 As you will know an Australian Federal Election must be held before the end of May 2019. The Embassy will serve as one of Australia's overseas polling stations for two weeks before election day . While the election hasn't been called yet and dates have not been confirmed, we advise Australians in Ireland to keep an eye on our website which will post the most up-to-date information as we receive it. The Embassy teamWhile the date for the 2019 Australian Federal Elections have NOT yet been announced you can prepare for them.
The Australian Embassy in Ireland will be offering in person voting for the 2019 election. For information on voting while overseas, please visit the
Australian Electoral Commission (AEC) website at www.aec.gov.au/overseas.
To vote you must be enrolled. To enrol, check or update your enrolment details visit www.aec.gov.au.
Consular Corner
Ever wondered why we are so strict on passport photo quality? Well your photo is critical to the usability and security of your passport. The facial
recognition technology used in conjunction with Australian passports makes border processing more efficient and reduces the potential for
identify fraud. If your photo doesn't meet our strict standards, your passport may not work at automated borders.
Here are some of the basic requirements:
- No smiling for the camera
- No shadows in your photo
- No glasses
- Face forward, looking forward and don't tilt your head up or down
- No hair or head covering across the face
For all the requirements go to: https://www.passports.gov.au/passports-explained/how-apply/passport-photo-guidelines

ANZAC Day 2019
ANZAC Day preparations are well underway for the dawn service in Grangegorman Military Cemetery on 25 April at 6.30am.
It is always a moving experience and we are so grateful for the support and assistance of the Office of Public Works and the
Garda Síochána every year. Register here: https://ireland.embassy.gov.au/dubl/AnzacDay.html
We have already received some amazing stories from people planning to attend from around the country – and around the
world! If you have an interesting ANZAC link let us know, we would love to hear it austremb.dublin@dfat.gov.au
Want to learn a bit more about the Australian (& New Zealand) service personnel of the First World War who lost their lives
while in Ireland? Visit the 'Anzacs in Ireland' page on our website, collated by the Embassy's Historian in Residence, Deputy
Head of Mission Simon Mamouney. Huge thanks to Professor Jeff Kildea and Cathy Sedgwick for their extensive research on
Anzacs in Ireland. https://ireland.embassy.gov.au/dubl/Anzacs-in-Ireland.html
ANZAC Day Art Competition 2019
This year the Australian and New Zealand Embassies are running a special art competition to design the cover of the Program Booklet for our annual ANZAC Day dawn service on 25 April. The theme for our Anzac Day 2019 service is HOMECOMING and we invite children and adults of all ages to submit a design for the front and back cover of our Anzac Day dawn service commemorative booklet, using art to explore the sometimes difficult journey home shared by all of those who lived through the First World War. Full competition details: https://ireland.embassy.gov.au/dubl/Covercomp.html Deadline: 12 April 2019
ANZAC Day history seminar 2019
A special Anzac Day lunchtime history lecture exploring Irish connections to the Australian Army during the First World War and the experiences of soldiers returning home after the War will take place at 12pm on 25 April at the National Museum of Ireland, Collins Barracks.
Featuring Dr Jennifer Wellington, Centre for War Studies, University College Dublin and Robert Fleming, an Aussie academic working in the National Army Museum in UK. To register a place email rsvp.dublin@dfat.gov.au
All-Ireland County Roadshow update
The Embassy's All Ireland County roadshow is off to a flying start with excellent visits to lovely Leitrim and wonderful Waterford.
In Leitrim the Ambassador represented Australia in his role as an observer at the International Fund for Ireland's board meeting, then met with Leitrim County Council to discuss their vision for development of the region and possibilities for cooperation with Australia.
A full Aussie lunch spread was laid out by the amazing Shedders of Carrick-on-Shannon Men's Shed where the Ambassador enjoyed a great chat and was delighted to receive beautiful handmade bird and bat boxes for the wildlife in the garden at his residence, Abbey Lea. The Ambassador also enjoyed an informative site visit with Social Farming Ireland, hearing that there had been significant Australian interest in this worthwhile initiative.
In Waterford, the Ambassador's jam-packed programme highlighted the extent of links between the Crystal County and Australia. After being greeted by receptionist Sami from Queensland at the his hotel, the day included a morning meeting with Minister of State for Training and Skills, local TD John Halligan; a fantastic tour of the Waterford Treasures museum to see special artefacts which truly highlight the amazing historic ties between our two countries – including short-term Tasmanian resident and originator of the Irish Tricolor, Thomas Francis Meagher. A fantastic lunch (& great opportunity to enjoy a Waterford Blaa!) with Waterford Chamber of Commerce followed which was a wonderful chance to discuss with local businesses ways to build on their already strong Australian links. Next on the itinerary, a briefing from Waterford Institute of
Technology's excellent SmartAgri program to explore possibilities for agri-tech cooperation; before the visit was topped off by a screening of The Merger in Waterford's Garter Lane and finally a great guided tour of the iconic Waterford Crystal factory!
Next on the agenda are Kildare, Meath, Tipperary and Mayo! If you have any suggestions of must-visit stops in your county, please get in touch – email: austremb.dublin@dfat.gov.au
First International University AFL Games - April 2019
The game of Aussie Rules continues to grow in Ireland and recently the first AFL Ireland Women's Universities Cup and AFL Ireland Men's Intervarsity's Cup competitions took place. Athlone Institute of Technology were crowned Women's Champions and Cork Institute of Technology took out the Men's competition. Exciting times for the growth and promotion of the sport amongst third level institutions and even more so with the announcement of the first ever International Universities Aussie matches which will take place on Dublin on Saturday April 20th. The best of Ireland's students will take on the best of Great Britain as Irish Universities go Head to Head with National University League All Stars in both Women's and Men games. These are the first International University Aussie Rules Test games to take place anywhere in the global AFL community so there is great excitement in both camps in anticipation of this event.

Mike Currane, Head of AFL Ireland Women's and Coach of the Irish Universities Women's Team said "We are hugely looking forward to
this milestone event. It's fantastic to have students playing this great game and even better that they have such an amazing opportunity to
play Representative footy in what will be a historical game for both men's and women's teams. We are striving all the time to provide
more opportunities for people of all ages to play and excel at Aussie Rules"
Profile of an Aussie company in Ireland – Emboss Events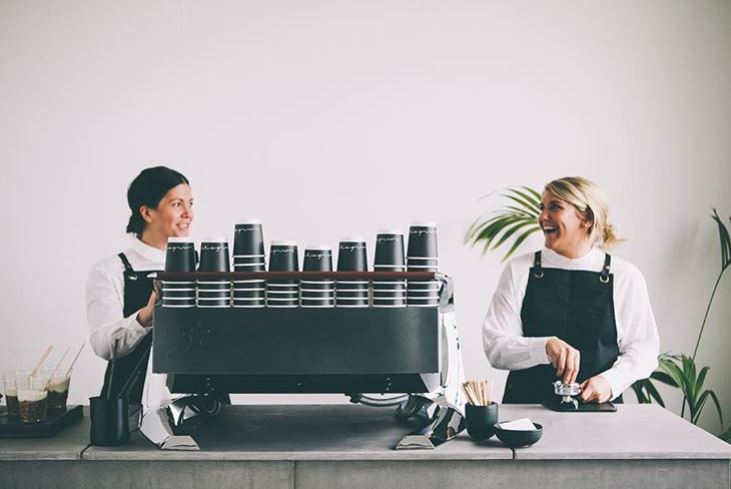 We are thrilled to see Australian event and coffee company Emboss bringing a taste of exciting Australian coffee culture to Ireland - we like them a latte! A pop-up Aussie café in the Embassy was recently set up to fuel a great meeting of business leaders from the Irish Australian Chamber of Commerce and Australian Treasury colleagues and we are delighted to work with Emboss events once again for the Embassy's ANZAC Day dawn service on 25 April in Grangegorman Military Cemetery. Already looking forward to some strong hot Aussie coffee and ANZAC biscuits!
Kiz and Sophie: IRELAND HAS WOKEN UP AND SMELT THE COFFEE!
We all know Australia invented the humble Flat White, but it's also responsible for many of the establishments that are popping up throughout the country, notably Emboss Events. Revolutionizing coffee for events, Emboss can be found in varying locations daily, across offices, buildings or the pop ups of Ireland. Emboss brings a café to our customers events, we serve delicious coffee from our stylish custom made bar, which gives us access to buildings and spaces that vans and cars can't reach. Established in 2018, Sophie Langron & Kiz Groome bring their 4 years of experience from Thru the Green Coffee Co in Dundrum. to ensure delicious coffee is on offer for every location. 'People really expect high quality barista made coffee these days, the old instant coffee doesn't cut it anymore', says Kiz. 'We had been to so many events where the coffee + treats weren't palatable and the event lacked that soul and connection. It is these details our clients are enjoying. Letting us take care of those finishing touches and ensuring the heartbeat of the event, they can worry about the rest.' https://www.emboss.ie/
Spotlight on an Amazing Aussie in Ireland
Brianna Parkins
Our Amazing Aussie in Ireland this month is Brianna Parkins, journalist, broadcaster, former Sydney Rose and all-round legend, Brianna Parkins. We loved her recent article on what she has learned about the Irish people since moving to Dublin from Australia! @parkinsbrea
https://www.irishtimes.com/life-and-style/people/irish-people-don-t-make-a-move-until-2am-and-other-hometruths-1.3823258
Words that describe what Australia represents or means to you:
Tough country with tough people
An Australian figure that you would like more people to know about:
Gough Whitlam. The man made university education accessible to everyone of all backgrounds. I wouldn't be here without it.
Your Aussie Desert Island survival kit:
One Australian song – I know it's cheating but a dead tie between Treaty by Yothu Yindi and Cattle and Cane by the Go Betweens
One Australian book – He Died with a Falafel in His Hand by John Birmingham because I've sharehoused for nearly ten years
One Australian movie – it's cliche but it has to be the Castle. I can watch it over and over again
One Australian food item – Zooper Doopers
One Australian luxury item – My Akubra or a pair of RM Williams
Your top recommendation for a first time visitor to Australia:
Bondi is the worst of all the beaches. Hang a right and head for Tama or Bronte. Better yet head down to Wollongong.
Your life philosophy and/or a life-changing changing moment you experienced in Australia:
Watching my mum become an Australian citizen, in a small hall filled with people from all over the world belting out 'we are
one but we are many.'
Culinary Diplomacy in action - Liath opening
Did you know there's a fantastic new restaurant in town, opened by Michelin-star winning Australian Chef Damien Grey on 15 March? Tucked away in the narrow alleyways of Blackrock Market, Liath (which the gaelgoirs among you will realise is named after its owner) takes an innovative Aussie approach to natural and wild Irish ingredients foraged by the chef in person from locations around Dublin that are a well-kept
secret. The restaurant seats only 22 people and offers a stunning taste experience over nine unforgettable courses, paired with unusual wines from a wide range of different countries. Patrons attending on the opening night were lucky enough to start their meal with an aperitif of fine Tasmanian sparkling Rose by Arras, arranged by the Embassy courtesy of Fine Wine Partners. Getting a booking at Liath is as rare, and as lucky, as a four-leafed shamrock, so if you get the opportunity, snap it up!
Síolscéalta / Seedstories – new doco from Aussie filmmaker Paula Kehoe on TG4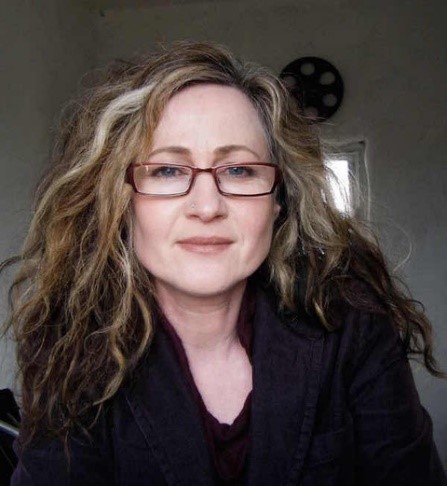 It was great to meet with Aussie gaelgoir Paula Kehoe, Director of Saoi media this month. Paula's latest series Síolscéalta (Seedstories) will be broadcast on TG4 on Thursday March 28 at 8pm. Síolscéalta follows the growing year at An Garraí Glas, Aonghus (Chóil Mhaidhc) Ó Coistealbha's garden project in Conamara. Aonghus learned about permaculture and organic farming in his years spent in Australia as a Wwoofer (Willing working on organic farms). He now combines traditional skills he learned as a child, with new growing techniques he learned in Australia. Comhgairdeas on the series Paula!
Paula: I was born and raised in Melbourne, Australia, but I've spent a fair chunk of my adult life based in Ireland since 1994. My father was from Baltinglas in County Wicklow, and my mother's people were from Mill Street, County Cork on one side, and on the other side they were Ulster plantation folk from Carrickfergus. All emigrated to Australia. So I figure I'm a mixed bag of diverse Irish diaspora-ness! As fate would have it, I ended up back in Ireland and am based in Conamara. I developed a deep connection with the Irish language through spending time on the Aran Islands learning Sean-Nós (old style) singing in the nineties, and then I went on to learn the language, completing a Diploma in Celtic Studies at NUIG. I started my career in the media working in the newsroom at TG4 in 1998, and subsequently worked in radio with SBS Australia, in feature film production, and as a freelance director. I'm now an independent filmmaker making creative arts films and documentaries, TV series
and immersive projects as Saoi Media. As a filmmaker in a cottage industry, you have to learn a lot of different skills. It can be a fragile way to make a living, but it's very exciting when you feel you're working in the right space at the right time. When I feel frustrated or challenged, I remind myself what a privilege it is, as an Irish-Australian, to be able to live in the Gaeltacht and make meaningful work, as Gaeilge, that is seen around the world. Website: www.paulamkehoe.com Twitter: @paulamkehoe Instagram: @saoimedia
In Memoriam
Dr John Herron AO
Former Australian Ambassador to Ireland (2003-2006), Dr John Herron AO, passed away on 25 February. Seen here during the opening of the Australian Embassy in 2004, with Australian Foreign Minister Alexander Downer and Taoiseach Brian Cowen. Dr Herron was the Minister for Aboriginal and Torres Strait Islander Affairs from 1996 to 2001 and from 2002 to 2006 was the Australian Ambassador to Ireland and the Holy See
in Rome.
Dr Herron was a Senator for Queensland from 1990 to 2002. He was appointed an Officer of the Order of Australia in 2012 for distinguished service to the Parliament of Australia, to international relations through diplomatic and humanitarian roles, to professional medical associations, and to the community. Our sincerest condolences to his wife Jan, and their many children and descendants
Professor David Fitzpatrick
We were also sad to hear of the passing of Australian Professor David Fitzpatrick, born in Melbourne, and first educated at the University of Melbourne, before eventually becoming Professor of Modern History at Trinity College Dublin. Professor Fitzpatrick's work was a major contribution to Irish historical scholarship, writing on Irish participation in the Great War and Irish military history. His work was original, courageous, research-based and challenging. His work on Irish migration, especially to Australia, was an early source for scholars in a field that would go on to be a major part of Irish and Australian social science and historical research.
Update from the Irish Australian Chamber of Commerce
Meet the Irish Australian Chamber of Commerce team here in Dublin:
Newly appointed President Vincent Crowley and Head of Member Relations, Mary-Clare Bagot.
Please contact Mary-Clare for all enquires maryclare@australianchamber.ie/ 087 123 3552
Emerald Leadership Program Launch
This month we launched the Emerald Leadership Program. The program is already a huge success in Australia where it celebrates and supports established and emerging Female Leaders. The program is a female focused networking group, with a structured program to provide peer based network and business support to the next generation of female leaders.
Participants will have the chance to hear from inspirational female speakers on a quarterly basis, join a peer to peer facilitated program that will fast track their development through the shared experiences of the group and celebrate with an end of year lunch. The Program will be chaired by Lorraine Higgins, former Senator and current Director of Strategy and Public Policy at MKC Communications. For more details on the Emerald Leadership Program and how to apply, please check out the following link: https://www.australianchamber.ie/emerald or contact Mary-Clare at the chamber directly
Recently we held our Foundation and Corporate members VIP dinner, kindly hosted by the Ambassador at Abbey Lea, the Ambassador's residence. Over 20 guests enjoyed a fantastic night of networking, delicious food and beautiful Australian wines. Members discussed how to build our commercial relations between Ireland and Australia and strengthen the chamber. Thanks to everyone for making the night such a great success. Great to see our partners FlexiFi, CPL, ICON, Macquarie, McCann Fitzgerald, William Fry, PWC, Arthur Cox, Candid Partners, Deloitte Ireland, EisnerAmper Ireland, EML Payments, Harvey Norman, KPMG, Pavilion Health and the Australian Embassy.
We look forward to catching up again soon.
Update from the Ireland Australia Association
Thirsty Thursdays @ The Woolshed – 4th April – 6pm
The IAA will throw a few Euro behind the bar and welcome members and newcomers alike for a drink and chat. It's an
opportunity to get know more about us and connect with some Aussies. If you're keen to join us, rsvp on the Facebook event.
IAA AGM – 6 pm Friday 24th May @ Australian Embassy Dublin
We'll post a full agenda in the coming weeks and ask for member submissions. The standard order will include:
Review of 2018/19 activities and Financials
Election of Officers – President, Vice President, Treasurer and Secretary.
Election of 6 Committee members.
We're seeking expressions of interest and nominations for Office Holders and Committee members and if you're keen to get
involved and want to know more see www.irelandaustralia.ie or contact info@irelandaustralia.ie
If you have an idea for an IAA event and want to make it happen, get in touch with Rebecca to secretary@irelandaustralia.ie
Upcoming Events
25th April – ANZAC Day Dawn Service – Grangegorman Military Cemetery
19th May - Australian Opera star Lauren Fagan performs at West Wicklow Festival
To include an event on this calendar send us an email - Austremb.Dublin@dfat.gov.au
Past editions