Australian Embassy Ireland Newsletter
Aussie Eire Waves is the Australian Embassy Ireland's monthly newlsetter that connects the Embassy here in Ireland with the local community.
The aim of the newsletter is to keep you informed of past, present and upcoming events as well as interesting developments in the bilateral relationship between Australia and Ireland both at home and here in Ireland. The newsletter is not only intended for Australians in Ireland but anyone that has a link or even just an interest in Australia, its people and our connection with Ireland.
The newsletter will draw on reporting from the Embassy itself as well as from Canberra and from people like yourself that are doing interesting things in Ireland. If you know of someone or you yourself are doing interesting things in Ireland or Australian that would be of interest to the Embassy and the wider Australia community we would love to hear from you.
Current Newsletter
From the Ambassador's Desk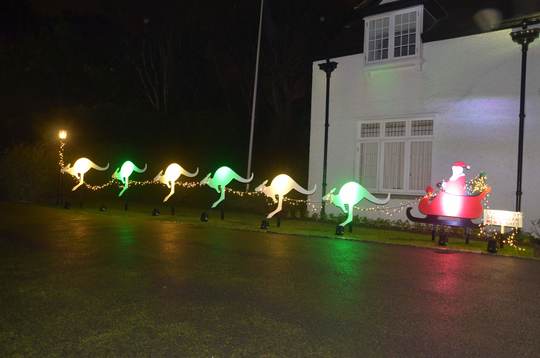 Even though it's only been a short gap since our last newsletter, as you'll see from these pages there's been plenty of action!
There's been sport (at last, an Aussie win over Ireland at Rugby by our intrepid Schools team on 8 December at Donnybrook!) culture (an innovative concert at the Residence by Australian pianist Gabriella Smart) and a reminder that Australia's involvement in business in Ireland is long-standing and innovative – Saovanee and I were delighted to attend a celebration of 30 years' achievement by Australian Professor Barry McCleary, who founded the dynamic company Megazyme in Sydney and has turned it into a thriving enterprise here in Bray. Look out for more about Barry's story in these pages in months to come.
In between all that we were honoured to receive a visit in the Embassy from Australia's former Prime Minister Julia Gillard, in town in her capacity as Chair of the Board of the Global Partnership for Education – another venture where both Australia and Ireland are contributing to making the world a better place.
The team at the Embassy went into overdrive in the first half of December as the Christmas party approached. With so many events around Dublin at this time of year, we wanted to do something different – and to capture the spirit of Australian Christmases spent in the sun at the beach. Well, we got the beach, even if not the sun – the cream coloured carpets of Abbey Lea were a fair substitute for white Aussie sand; a giant wave dominated the main room; sulphur-crested cockatoos converged on the tree while Santa watched from his sleigh with his six white boomers outside; and our Irish guests were treated to Aussie music (and a few traditional carols) and fare from meat pies and kangaroo sausages to Bindi's famous pavlova. Safe to say a great time was had by all!
The fantastic team effort that went into the Christmas party was a fitting way to cap off what has been a whole year of fantastic effort. I would like to take this opportunity to thank everyone in the Embassy team (including spouses and families who provide endless support through the year) for their great contribution and service to the Australian community in Ireland, and for being such fun to work with; and to wish you all a merry,
safe, and memorable Christmas and happy and prosperous New Year.
A Moment in Time
We just love this festive image (unearthed by our Deputy Head of Mission and resident history buff Simon) dating back to 43 years ago this week, which truly encapsulates the long history of friendship between our two countries.
Helping to make their first Christmas on the new Kish Lighthouse a happy one, the Australian Ambassador, His Excellency the Hon. S. Robertson,
handed over three plum puddings, a gift from the Dried Fruit Growers of Australia, to the men who will man the Lighthouse this Christmas.
10.12.1965
Another special visitor in town
We were honoured to receive a visit in the Embassy from the Chair of the Board of the Global Partnership for Education, Australia's former
Prime Minister the Hon Julia Gillard, in early December. Ms Gillard, in Dublin for a meeting of the GPE's board, took time out to meet the
Embassy team, joining a range of other dignitaries who have signed the Embassy's novel "visitors' book" – a Lego model of the Sydney Opera
House.
She also called on Taoiseach Leo Varadkar and gave a very well received speech and "fireside chat" at the Philosophical Society at
Trinity College Dublin, where she received the honour of being named an Honorary Patron - Congratulations!
Australian Embassy Women in Leadership Group
The Embassy's Women in Leadership Group rounded off the year in style with a lunchtime discussion with Peter Cosgrove (not to be confused with the Governor-General!) of the 30 Per Cent Club, an organisation dedicated to increasing female representation on corporate and government boards. Peter gave an entertaining talk that sparked lively discussion around the barriers to understanding of the issues faced by women in the workplace, and how change can be brought about in a way that brings everyone along. We were privileged to be hosted by Tricia Moore, a founding member of the group who will shortly be heading back to Australia, at PWC's wonderful offices overlooking the Liffey.
Thanks for your great contribution Tricia, and all the best for the next step!
If you are interested in learning more about the Embassy's Women in Leadership activities contact Alex at alexandra.ledward@dfat.gov.au .
Check out the Embassy's Christmas Jumpers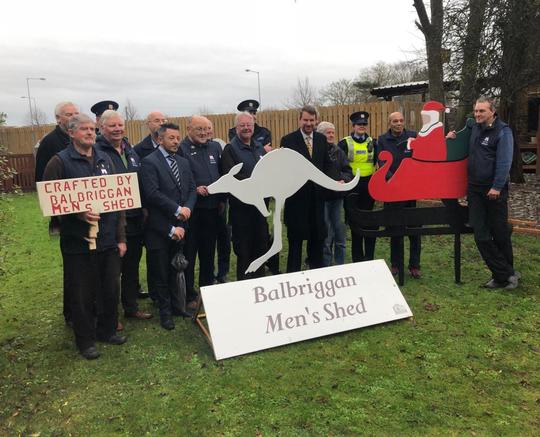 Meet the newest members of the Australian Embassy team! 6 white Boomers have made the Ambassador's Residence their home, in preparation for an intense night of overtime working under the direction of Santa Claus. The Embassy was delighted to work once again with our dear friends in the Balbriggan Men's Shed on this project. The shedders did incredible work on crafting these marvellous marsupials.
Close bonds of friendship and collaboration exist between men's sheds in Ireland and Australia and we are thrilled that we could add another chapter to this great relationship. In September 2017, the Governor General of Australia and patron of the Men's Shed movement in Australia, Sir Peter Cosgrove and his wife Lady Cosgrove enjoyed visiting the shedders in Balbriggan as part of his state visit to Ireland. The Men's Sheds movement originated in Australia, to encourage an atmosphere of oldfashioned mateship, improving mental and emotional health & wellness, and tackling loneliness, isolation and depression amongst men. Ireland has enthusiastically embraced the concept and will reach an impressive 500 Men's Shed groups across the country in just five years!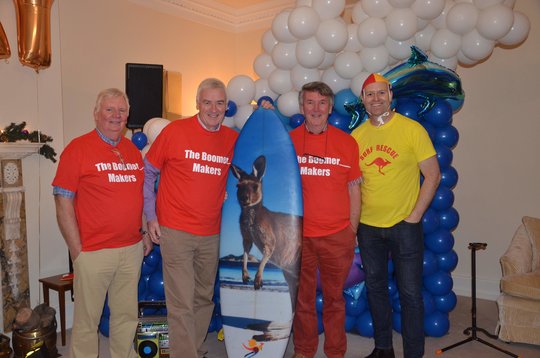 Special delivery to Clonard Family Hub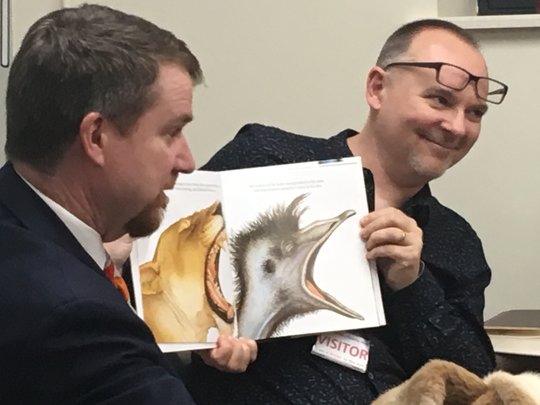 Following a fantastic book launch at the Embassy with Sean Williams and Garth Nix in October, we used the generous donations from guests and the two authors to organise a bumper collection of our favourite Australian children's classics to give to families living in temporary accommodation. On 4 December the Ambassador and Sean Williams visited Clonard Family Hub to give a special reading of two of their favourites - Edward the Emu by Sheena Knowles and Possum Magic by Mem Fox. Our thanks to the hardworking team at Clonard Family Hub, Dublin City Council, Children's Books Ireland and all of the lovely families currently living at the hub for a wonderful afternoon and to Tourism Australia and skincare brand Moogoo for some fab Aussie treats. Sparking a love of reading is one of the most important gifts that you can give to a child and we hope that these beloved Australian books are enjoyed by a whole new generation of kids on the other side of the world.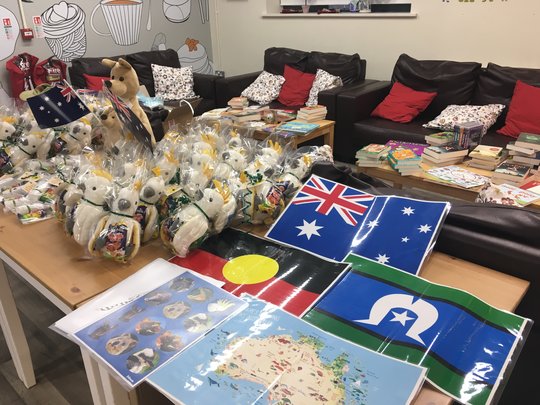 Of Broken Trees and Elephant Ivories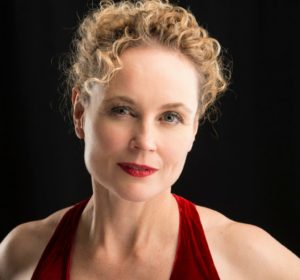 On 10 December, acclaimed Australian pianist Gabriella Smart made the Ambassador's Residence the venue for the Grand Finale of her worldwide tour, treating guests to a special & innovative recital on the Ambassador's piano. Gabriella took the audience on a spoken and musical journey inspired by the narratives of selected pianos from Colonial Australia. Incorporating AM & FM radios, ebows, (elbows!) and electronics, as well as Gabriella's incredible talent on the piano, the performance underscored the importance of the piano as a hugely significant cultural object in Australia's history. Did you know that an estimated 700,000 pianos existed in Australia in 1888 - for a population of just 3,000,000!
Consular Corner
The Embassy will operate a reduced service over the festive period and will be closed on the following days: Tuesday 25th December 2018, Wednesday 26th December 2018, Thursday 27th December 2018, Friday 28th December 2018 and Tuesday 1 January 2019.
If you are making holiday or travel plans for 2019 make sure to check the expiry date on your Australian passport and remember, your passport may be valid for ten years but children are only issued with 5 year passports! If you need a new passport make sure you apply as soon as possible. Allow at least three weeks to receive your new passport. Top Tip - most countries require at least six months validity from the date you leave that country. Have fun and take care during the holiday season!
Spotlight on an Amazing Aussie in Ireland
Professor Andrew Deeks, President of University College Dublin since 2014 and the first Australian to lead an Irish University! https://www.ucd.ie/president/biography/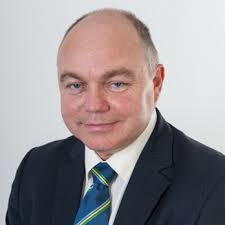 5 words that describe what Australia represents or means to you: Home, Fair-go, Beautiful, Harsh, Isolated
An Australian figure that you would like more people to know about: C Y O'Connor – Born in Co. Westmeath, he emigrated first to New Zealand at the age of 21 before becoming Engineer-in-Chief of Western Australia in 1891. Responsible for the construction of Fremantle Harbour and the Goldfields Water Supply Scheme, two projects that enabled the economic success of Western Australia. At the time the Goldfields scheme was the largest public works project in the world, and under intense public criticism as to the cost O'Connor committed suicide less than a year before the commissioning.
Your Aussie Desert Island survival kit:
One Australian song – Will I Ever See Your Face Again – The Angels
One Australian book – They're a Weird Mob – Nino Culotta aka John O'Grady
One Australian movie – Running on Empty – the movie where the best actor was a Ford Falcon XY GT
One Australian food item – Lamingtons – in their hundreds from the primary school lamington drive
One Australian luxury item – Ugg boots – a desert island gets cold at night
Your top recommendation for a first time visitor to Australia:
Kalbarri – the inland river gorges, the Loop, the Z-Bend and Natures Window. Many say the views are better than the Grand Canyon
Your life philosophy and/or a life-changing changing moment you experienced in Australia:
While working on my undergraduate thesis I derived a 'new' approach to structural dynamics from first principles which I hadn't been taught. I was only slightly crestfallen when I then found a twenty-year-old research paper which developed the same approach! I experienced for the first time the satisfaction of discovering something 'new', and then the reassurance that what I had 'discovered' was in fact correct. That started me down the path of research, and since then I have had the satisfaction of publishing a number of findings
which have been genuinely new!
Ireland Australia Association 2018 Highlights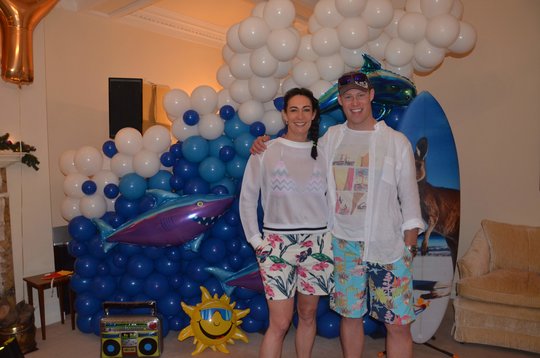 The Ireland Australian Association has enjoyed a prosperous year under a new leadership and committee. We are proud to say that membership has doubled during this time and we would like to take the opportunity to thank those people for supporting the organisation and all the association embodies. It has been delightful to see new members coming to our events this year as they bring new energy, vigor and enthusiasm to the team. We also highly value their input and feedback as this helps to generate new ideas and creativity.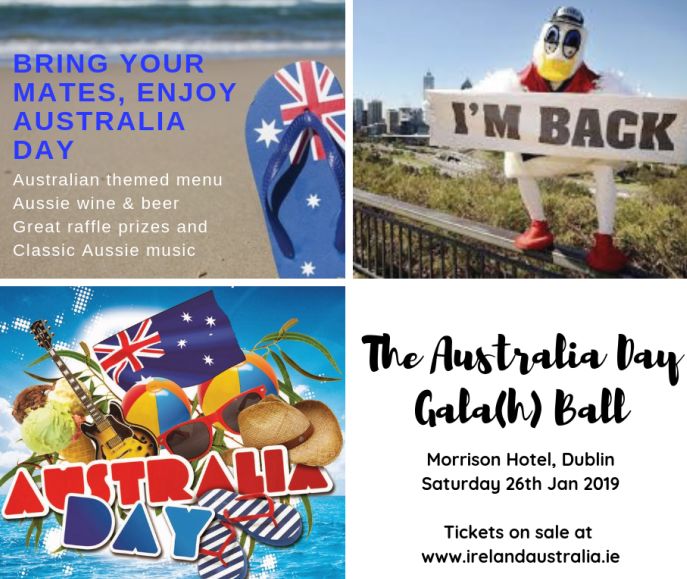 Our focus at this time of the year is on our flagship event, the "Australia Day Gala(h) Ball" which will be held on Australia Day this year, 26 January 2019 in the Morrison Hotel, Dublin 1. The evening promises to be filled with all the things we love about Australians – sophistication, not taking ourselves too seriously and a fair bit of craic! We hope not only Australians but all those who have a love for Australia(ns) come along to join us start the year on another positive note!
Tickets available via our website www.irelandaustralia.ie and we hope to see you there!
SAVE THE DATE - January 26, 2019:
The Morrison Hotel, Dublin 1
6:00 pm till 1:30 am
The Irish Australian Chamber of Commerce Year in Review
2018 for the Chamber started strongly with another bumper crowd joining us for the Australia Day Corporate Lunch up at Croke Park. This event has become a firm fixture in the local business calendar and gives a real point of focus for the developing Irish Australian business relationship. That vibrant relationship was further strengthened by the visit of Australian federal Trade Minister Steve Ciobo to Dublin during the year, where he spoke at a private reception for our Foundation and Corporate Members.
While such visits are extremely important, there's lots of things going on in the background that are now being brought forward and celebrated through the Irish Australian Business Awards, which, this year, saw Irish icon Kingspan recognised in the Established Business category for their significant Australian investment, innovation and success, while Australian headquartered LiveTiles, who have recently expanded into Sligo, took out International Trader.
2018 has also seen us welcome local board members, Julie Fenton, Blaine Callard and Simon Mamouney alongside our Australian-based colleague David Greene. Our expanded board have been busy, running 2 strategy sessions in the past month which have seen some exciting ideas come through for 2019 and beyond. You'll see a lot more activity next year and an expanded range of opportunities. Get along to the Australia Day Corporate Lunch to find out more!
September saw us host a joint IDA/IACC/Trans-Tasman Business Circle delegation from Australia & New Zealand in Dublin for the second year. The highlight of the week had to be a packed Shelbourne Hotel for a Corporate Lunch with special guests Alan Joyce and Gina Rinehart. We were treated to a fantastic Q&A featuring Alan in conversation with Dearbhail McDonald that was the talk of the town for days afterwards.
Ripper Aussie Christmas
On 13 December, the Embassy brought an Aussie Beach Christmas party to Killiney. Well done to all who braved the wind and rain to join us - some even in their thongs and bathers!
Our thanks to Zofia Zayons, Ambassador for Jacob's Creek in Ireland for serving up her signature Frose cocktails at the Beach bar, to all the team at Catering 365 for their incredible Aussie spread of Australian meat pies, kangaroo sliders and lots more and to our own star baker Bindi for her famous pavlova!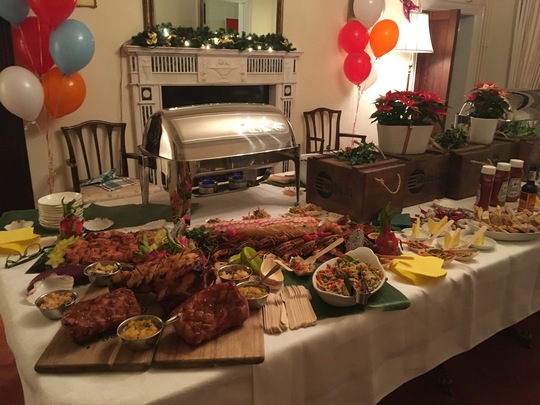 Upcoming Events
25-28 December 2018 - Embassy closed for Christmas
1 January 2019 - Embassy closed for New Years Day
25 January 2019 - Irish Australian Chamber of Commerce Australia Day Corporate Lunch
26 January 2019 – Ireland Australia Association Galah Ball
25 April 2019 – ANZAC Day Dawn Service – Grangegorman Military Cemetery

To include an event on this calendar send us an email - Austremb.Dublin@dfat.gov.au
Past editions