Australian Embassy Ireland Newsletter
Aussie Eire Waves is the Australian Embassy Ireland's monthly newsletter that connects the Embassy here in Ireland with the local community.
The aim of the newsletter is to keep you informed of past, present and upcoming events as well as interesting developments in the bilateral relationship between Australia and Ireland both at home and here in Ireland. The newsletter is not only intended for Australians in Ireland but anyone that has a link or even just an interest in Australia, its people and our connection with Ireland.
The newsletter will draw on reporting from the Embassy itself as well as from Canberra and from people like yourself that are doing interesting things in Ireland. If you know of someone or you yourself are doing interesting things in Ireland or Australian that would be of interest to the Embassy and the wider Australia community we would love to hear from you.
Current Newsletter
From the Ambassador
You might have noticed that it's been a little while since the last newsletter. That's because we've been flat out! As you'll see from this bumper, summer edition, there's been plenty going on at the Embassy in the last couple of months, and there's plenty more to come.
One of the best things about my job is that there is an almost endless stream of different, interesting connections to be discovered between Australia and Ireland. Increasingly, as you'll see below, we're starting to talk about periods in our history that have sometimes been controversial in Ireland, Australia or both. I was honoured and moved to participate in ceremonies commemorating Victoria Cross recipient Martin O'Meara, from a tiny village in Tipperary that has amazing Australian connections; and girls from the workhouse in Ballina, Co Mayo, who were sent to Australia in the 19th Century. Reflecting positive change in both our societies, the Embassy was strongly represented at Dublin's Pride Parade. On the commercial side, we held our first annual barbecue at Abbey Lea with the Irish-Australian Chamber of Commerce; made a pitch to the Irish Farmers' Association's National Council on the benefits of an Australia-EU Free Trade agreements; and hosted the relaunch of one of Australia's largest wine companies, McWilliam's, in Ireland at the Embassy. In the arts, the remake of the moving Australian film "Storm Boy" was screened in Dublin, and Aussie performers Hugh Jackman and the Midnight Oils put on performances and in sport a team of Western Australian schoolboys visited to take part in the GAA Feile in Mayo in June; and the Australasian women's teams won the both the GAA World Games Camogie (Irish) Cup and the Ladies Football (Irish) Cup.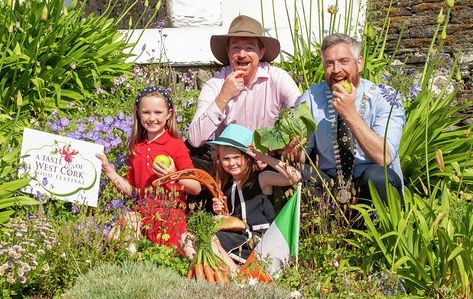 The other great thing about the job is that there is always an opportunity to create even more connections. I'm particularly excited that this September, for the first time, we'll be welcoming some very special Aussie visitors to the major food festival "A Taste of West Cork". Asked by the organisers to bring an Australian flavour to this year's festival, we have arranged for four young Indigenous Australian chefs to bring some native Australian "bush tucker" flavours to Ireland. With celebrity chefs Neil Perry of Sydney's famous Rockpool Group and Ben Shewry of the acclaimed Attica restaurant in Melbourne overseeing their preparation, we're confident they'll be a big hit; great ambassadors for Australia's wonderful indigenous culture, its knowledge and love of the land; and a fabulous advertisement for the innovation and imagination bound up in modern Australian cuisine.
A Taste of West Cork
On 11 July, the Ambassador travelled to beautiful Baltimore in West Cork to officiate at the media launch of the food festival A Taste of West Cork. Speaking at historic Dun Na Sead castle, he announced that the Embassy, in conjunction with the National Indigenous Culinary Institute, a not-for-profit organisation that trains young indigenous Australian chefs to cook in top-class restaurants, would be bringing four talented Aboriginal chefs - twins Luke and Samuel Bourke of Neil Perry's Rockpool Group in Sydney, David Gray of Café Giorgio and Josh Moore of Bistro Guillaume to this year's festival, and some subsequent events in Dublin.
The chefs will be bringing with them an array of "bush tucker" ingredients and flavours, including kangaroo and wallaby meat, damper, lemon myrtle, wattle seed, Kakadu plum, and finger lime caviar. The program for A Taste of West Cork can be found at https://www.atasteofwestcork.com/.
This is a major undertaking for the Embassy – but it's one we think is very important for a range of reasons. It's intended to send a clear message of our pride in the skills and talents of our Indigenous young people and the Government's commitment to supporting them to achieve great things – and to address the historical disadvantage our First Australians have faced in a positive forward-looking way. We would like to think that it will also highlight the quality of Australian food and wine, and the value of trade in food and foodstuffs – and how bringing people together to talk about and enjoy each other's food and wine can create stronger international relationships and promote discussion about the challenges that face all of us in feeding the world sustainably. We've been delighted by the response to date, and wish to express our gratitude to the large number of sponsors who are helping us out.
Martin O'Meara VC Medal arrives in Ireland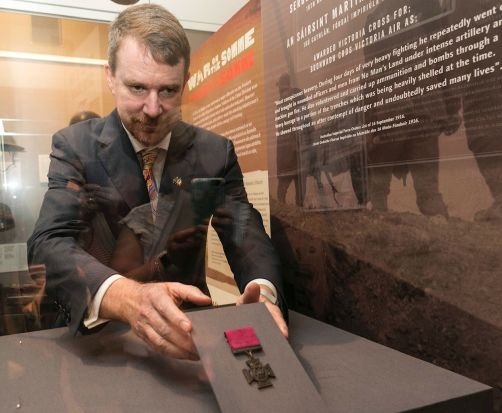 100 years after Irish-ANZAC Martin O'Meara VC last brought his Victoria Cross to Irish shoes, it has returned - the first time in 60 years a Victoria Cross has left Australian shores to be loaned to an international museum. On 26 July, Martin's VC was handed over to the National Museum of Ireland, in a small ceremony attended by the Ambassador, family members of Martin (great-nieces and nephews), representatives from the Australian Defence Forces, and community members from County Tipperary where Martin was born. The VC was awarded to Martin for his actions in the First World War at Pozieres on 9-12 August 1916, where he risked his own life to save a number of his comrades who lay wounded in no-mans land. Tragically, after returning from the war, Martin suffered a mental health breakdown and was institutionalised until his death in 1935. Eventually his medal was passed to the Army Museum of Western Australia in 1986 where it has resided until being loaned to the National Museum of Ireland.
To enable the medal to be loaned, the Protection of Movable Cultural Heritage Act 1986 had to be amended as it was prohibited to export or loan any Victoria Cross from Australia. The loan of the medal to Ireland also marks the first time that Martin's Victory and War medals have ever been on display with his Victoria Cross. The Victory and War medals have been in the possession of his family who have kindly loaned them to the National Museum of Ireland. You can see the medals and Martin's story for yourself at the Museum, Collins Barracks until Summer 2020.
Exaudi Choir visits Ireland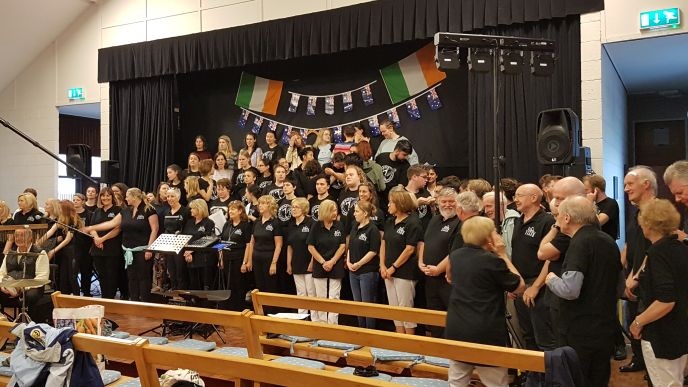 In July, a youth choir, Exaudi, from Melbourne visited Ireland for a number of concerts in both Galway and Kill, County Kildare. Exaudi takes its name from the Latin word meaning "listen to us" or "understand us". The choir seeks to "fill the gap" between choristers' experiences in their community children's choir or school groups and adult community choirs.
Exaudi teamed up with the Kill Singers in County Kildare and both choirs did a 'style-ised' version of Waltzing Matilda which went down "a bomb with the audience.
Irish Australian Chamber BBQ at the Residence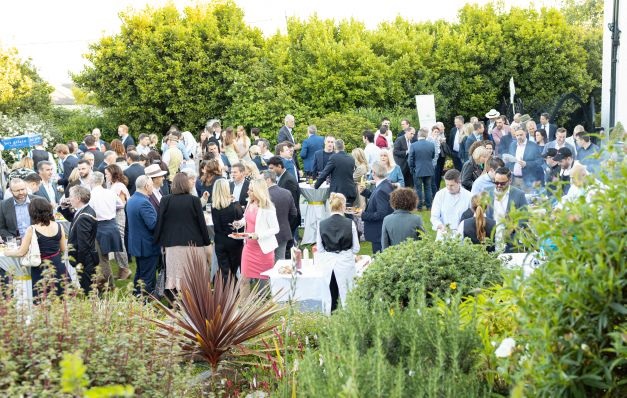 On 26 June, a fantastic night was had by all who attended the first Irish Australian Chamber of Commerce BBQ at the Australian Ambassador's Residence. The sun shone while we enjoyed the wonderful picturesque gardens and tastes of Australia. Thanks to the Chamber members and friends who attended and a very special thanks to Meat and Livestock Australia for the Australian beef and to the main event sponsor Harvey Norman Ireland.
From the Consular Team
Travelling overseas? Here are some handy tips for the holidays
Expiry date - If you are heading overseas for the holidays, check your passport expiry date now. Many countries may not let you in if your passport has less than six months remaining. If you are taking the kids with you, check their passports too – remember kid's passports are valid for only five years not ten like an adults.
Travel advice - Check out the latest advice on Smartraveller. Subscribe to receive updates or follow Smartraveller on social media.
Insurance - Take out comprehensive travel insurance. Ensure it covers you for the places you'll visit, things you'll do and any pre-existing conditions.
Visas - Make sure you have the rights visas for the countries you are visiting or transiting and check other entry or exit requirements. Check if you're regarded as a national of the country you plan to visit, and whether dual nationality will have any implications for your travel plans.
For more tips check out https://smartraveller.gov.au/guide/all-travellers/everyone/Pages/advice-for-all-travellers.aspx
Ambassador's Road Show: Kerry, Mayo, Donegal and Offaly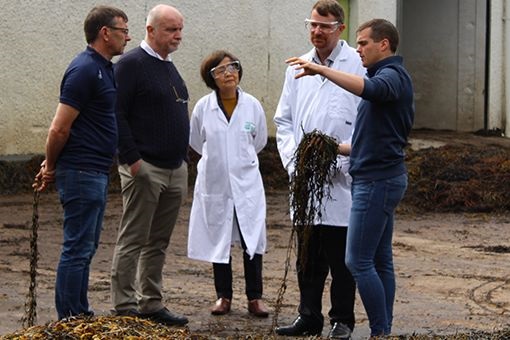 Despite a jam-packed July and August, the Ambassador managed to squeeze in more of his Ireland Roadshow! First up was Mayo, where he met with local business Port West, who are leading the way in industrial work wear, before going to the other end of the fashion world for a special visit to Aussie-born milliner Lina Stein. While in the county he also took part in a Wreath laying ceremony and visited the Enniscoe Heritage Centre and Jackie Clarke Museum.
Next up was Donegal where the Ambassador met local TD and Minister for Education Joe McHugh; attended the opening night of the renowned MacGill Summer School in Glenties; and followed up with a meeting with Oilean Glas Teoranta an exciting Irish business doing innovative things with seaweed in the area of fertilizers, and animal feed!
Later on the Ambassador called in at the offices of Dairymaster. Dairymaster is an agriculture technology company specialising in creating new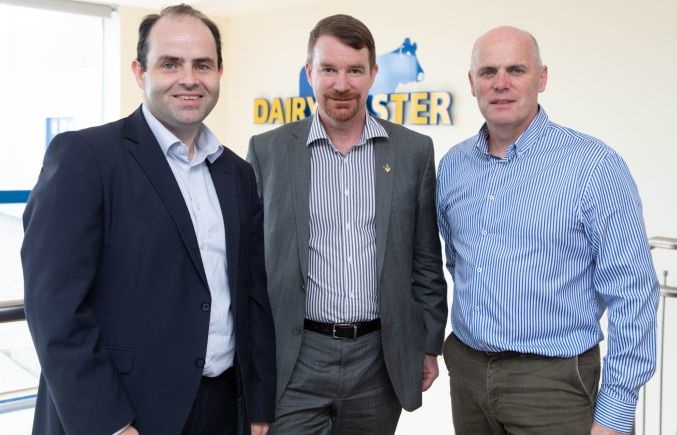 ideas and technology for the dairy industry. While at Dairymaster HQ, the Ambassador met with CEO Edmond Harty to discuss potential opportunities between Australia and Ireland in the field of agri-tech given the commonalities we share in agriculture production.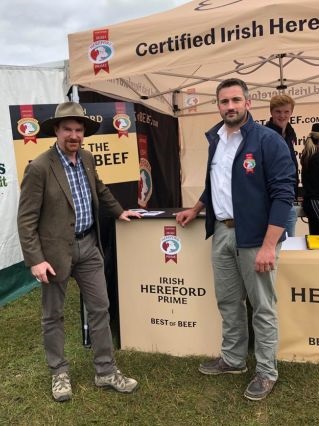 As ever, August was the month for a visit to County Offaly for the famous Tullamore Show – Europe's largest single-day outdoor agricultural event. In keeping with our view that trade has to be a two-way street, he took the opportunity to check out some of the great Irish produce on offer, as well as ensuring that guests at the VIP luncheon washed their Irish beef down with the right kind of (Australian) wine, courtesy of our supportive partner O'Briens. A great example of how Australian and Irish produce can complement each other!
Don't forget, if you know of interesting Aussie connections in your neck of the woods, let us know, we'd love to hear from you.
Spotlight on an Amazing Aussie in Ireland

Clint Drieberg
Our Amazing Aussie in Ireland this month is Clint Drieberg, Radio Presenter - NOVA FM
Words that describe what Australia represents or means to you: Home • Family • Friends • Sun • Fun
An Australian figure that you would like more people to know about: Aussie Sergeant Martin O'Meara who was credited with having saved the lives of over twenty-five wounded men in World War I. He is the only Irishman in the Australian forces to be awarded the Victoria Cross which is now on display at the National Museum of Ireland in Collins Barracks. He spent most of his life in my home state of Western Australia
Your Aussie Desert Island survival kit:
One Australian song – "Fire & Rain" is not an Aussie song, but wait till you you hear it performed by two of my friends and two incredible Aussie singers: Marica Hines and Jimmy Barnes
One Australian book – The Power of One, Bryce Courtenay
One Australian movie – Can I choose the entire Baz Luhrmann catalogue of films?
One Australian food item – It would have to be a meal of a Mrs Mac's sausage roll and sauce with a Masters Mocha flavoured milk. Two things you can only get in Perth which is well worth the trip home for
One Australian luxury item – A wardrobe full of one of my fave Australian designers Arthur Galan: AG
Your top recommendation for a first time visitor to Australia:
My favourite place I have ever stayed in Australia is in Tasmania and it's called Saffire Freycinet. It's almost impossible to describe how great this place is. It has everything and is possibly the greatest hotel in the world! It's pricey, but worth every penny.
Your life philosophy and/or a life-changing changing moment you experienced in Australia:
"We are not here to f**k spiders" A dear friend Danny first said this to me and while it may shock and confuse it simply means we are not here for a long time, we are not here to mess around, we came here for a purpose so lets get on with it and make the most of it. Just do it!
Update from the Irish Australian Chamber of Commerce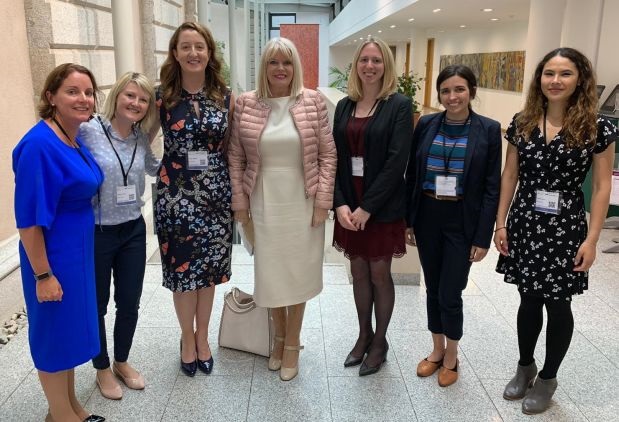 Emerald Leadership Program Update
The Emerald Programme participants had a great evening in Leinster House in July where they were hosted by Minister for Higher Education, Mary Mitchell O'Connor. Minister Mitchell O'Connor outlined her gender equality work in third level institutions and fielded questions from the attendees on her journey to national prominence. The next meeting will be held at William Fry solicitors offices in September and guest speaker will be former HR Director at McKesson and now an independent Consultant, Tracy O'Brien.
Australia Ireland Breakfast Tax Talk, 21st October 2019, 8am, EY Offices, Dublin
Naomi Ross of EY will host a tax talk on doing business in Australia and the Double Taxation Agreement between Australia and Ireland. More details to follow.
Update from the Ireland Australia Association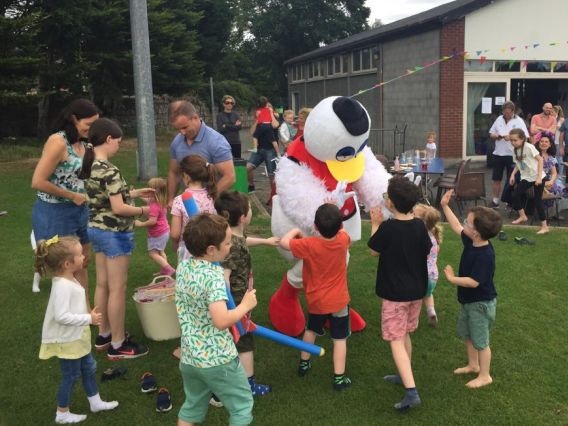 We held our annual IAA Big Aussie BBQ on Sunday, 21 July 2019 in typical Irish summer weather but with a record turn-out of over 100 guests enjoying the BBQ; bouncy castles; "Plucka" dispensing ice lollies and our hotly contested "pav" decorating competition, where we discovered some great Irish and Aussie talent which made the judging extremely difficult. A lot of fun was had with the backyard cricket and "thong" competition. The IAA committee would like to say a huge thank you to all who attended both members and friends; we hope you enjoyed the day and made some new friends in the process.
Upcoming events to look out for include our IAA Annual Golf Day in September; Wine Tasting in October and our Melbourne Cup Quiz night in November. Keep an eye on our website www.irelandaustralia.ie for details or follow us on Facebook and Instagram.
Australia Day in Cobh, County Cork
On 11 July 2019, around 1500 Australians arrived in Cobh aboard the cruise ship Sea Princess to a true Irish "Australia Day" welcome. The stop is part of a 107 day around the world cruise from Sydney to Sydney and Cobh is the only Irish port on the voyage. Cobh has been welcoming the Australian tourists since 2009 and celebrate the passengers' arrival as "Australia Day in Cobh".
The Ambassador and Saovanee made the journey down to Cobh to greet the passengers. Cobh goes all out to make its Australian visitors feel very welcome in particular decking out the town with Australian flags. Cobh also has historical links to Australia with many Irish convicts being held on Spike Island before transportation.
Next year the Sea Princess will visit Cobh on Tuesday 30th June 2020
Re-launch of McWilliams/Mt Pleasant wines in Ireland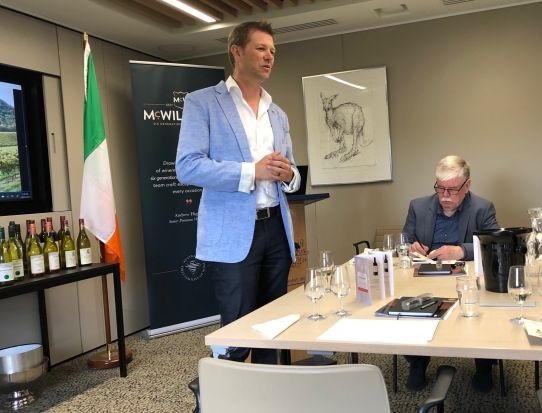 On 29 July, the Embassy hosted the press relaunch of Mount Pleasant & McWilliam's Wines in Ireland, in partnership with Ampersand. The event, which was attended by leading Irish food & wine journalists, was a great opportunity to sample some new and innovative wines produced in Australia. We're looking forward to seeing more quality Australian wine hit the shelves in Ireland! Did you know both McWilliam's and Mt Pleasant (and many other Aussie wineries) were founded by Irish families?
Also on the wine scene, last month O'Brien's Wine School hosted an Australian Wine Evening with Lynne Coyle MW, where Lynne shared insights on the exciting diversity of climate, wine style & grape varieties within Australia, and explored the diverse wine regions from Adelaide Hills to the coast of the Morning Peninsula & everything in between.
If you're interested in learning more about Australian wine, you're in luck! As part of the Taste of West Cork Festival in September, Harriet Tindal MW will be hosting a Wine Tasting Master Class on Friday 6 September. What better way to spend a Friday - tickets are selling fast, be sure to get yours here ) https://towc-australian-wine-tasting.eventbrite.ie/).
Embassy supports Dublin Pride Week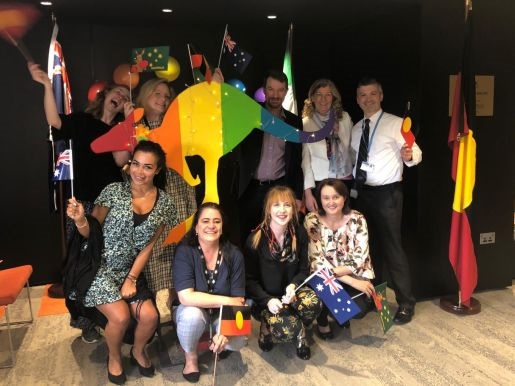 Members of the Embassy team joined other diplomats based in Dublin to march in the 2019 Dublin Pride Parade on 29 June. Under the banner of #DiplomatsforEquality the Australian and New Zealand Embassies marched together for the first time in Dublin's Parade. We even painted one of our six white boomers in the colour of the rainbow for Pride Week.
Valuing diversity and promoting inclusion are integral to advancing Australia's national interests, driving innovation, and reflecting Australian values of fairness and equality.
The Embassy's participation in the pride march is a small example of how we work to prevent and eliminate all forms of discrimination in Australia and overseas.
Aussie Embassy wins the Pavlova making competition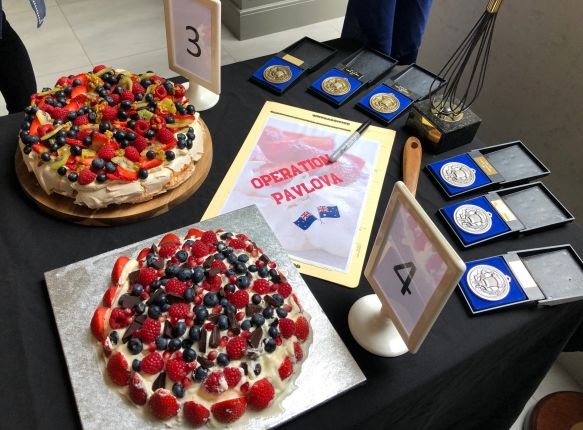 On 18 June 2019, an epic battle was fought out between the nations of Australia and New Zealand represented by their Embassies here in Dublin. At stake was the title of "Best Pavlova Maker in Ireland". We all know that Australia and New Zealand hotly debate who invented the pavlova. While this competition wasn't meant to decide that decades-long debate, it was a light hearted event to celebrate what we do well together and have in common (and also give one country bragging rights over the other for the next 12 months).
Both countries had three entries, chef made, embassy made and community made pavlovas. A panel of judges selected by each embassy sampled all pavlovas and all agreed it was stiff competition. However, at the end of the night, the Australian Embassy came out on top and now proudly holds the "Golden Whisk" in the embassy until sometime in 2020 when we will battle it out once again. Congratulations to Bindi on being named the creator of the best pavlova of the night! Her creation is number three in the photo.
A special thank you to all our pavlova chefs and to the New Zealand Ambassador, Brad Burgess, for hosting a fabulous night for those of us so far from our native homelands.
Australian guitar duo support K.D. Lang in Dublin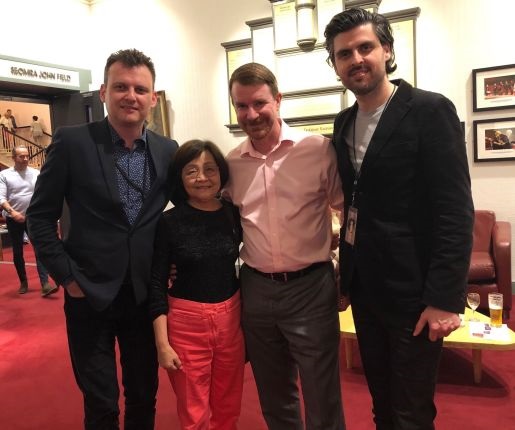 When K.D. Lang recently toured Dublin and played in the National Concert Hall her support act was none other than Australian guitar duo, the Grigoriyan Brothers! Hearing that they were in town, the Ambassador made his way to the concert and met the brothers after their performance.
Slava and Leonard Grigoriyan recorded their first album together in 2001. Between them, they have received three ARIA awards (Australian Recording Industry Association) and an incredible 24 ARIA Award nominations. As a duo they have recorded 11 albums with the 12th coming out in 2019.
Great War Memorial in Ennis, Co. Clare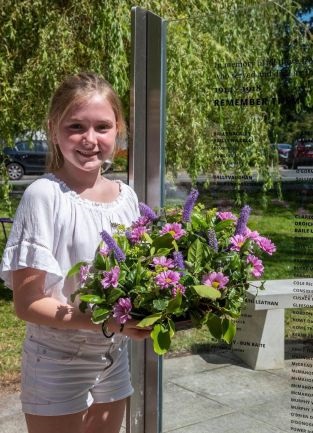 On 14 July 2019, a service was held at the Great War Memorial in Ennis. It is an annual event to remember the 77 Claremen who died at the Somme, including 11 ANZACs from Clare. With the Ambassador busy representing Australia at commemorative events for the Somme in Dublin, he was ably represented by Olivia Maidment from Clovelly, NSW, who with other members of her family, was visiting Irish relatives. Olivia proudly laid a wreath on behalf of the Embassy in remembrance of the Australian soldiers who fought alongside Irish soldiers at the Battle of the Somme.
Over the past five years, the Clare Library has been working with volunteers on Clare Men and Women in the Great War, which is available on the Clare Library website. One of the modules published is on Clare men and women in the ANZAC and Canadian forces http://www.clarelibrary.ie/eolas/coclare/history/clare_men_women_great_war.htm
Irish Film Institute - Oddball and the Penguins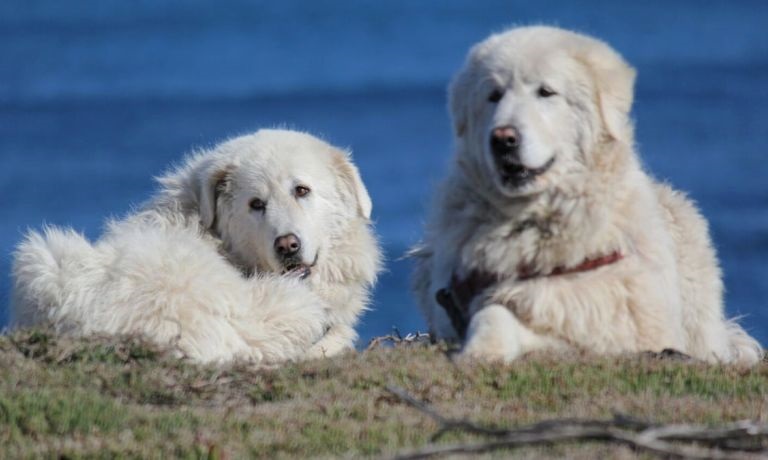 On Sunday 25 August at 11.00am the Irish Film Institute will be screening "Oddball and the Penguins" at 6 Eustace Street, Temple Bar. Tickets are €5.00 per person, €15.00 family ticket (2 adults + 2 children, 1 adult + 3 children).
Oddball is a charming Australian film set in Warrnambool, Victoria and based on a true story about maremma dogs and penguins.
An eccentric chicken farmer, with the help of his granddaughter, trains his mischievous dog Oddball to protect a penguin sanctuary from fox attacks in an attempt to reunite his family and save their seaside town.
Grab your tickets on the IFI website: https://ifi.ie/ifi-family-oddball-penguins/
Professor Gordon Wallace AO
In the week beginning 17 June, the Embassy hosted a number of events with visiting Professor Gordon Wallace AO, from the University of Wollongong. Professor Wallace is a world-renowned expert in the fields of advanced material research, 3D printing and medical devices. Originally from Belfast, Professor Wallace visits Ireland at least once a year and holds an annual symposium on 3D printing and advanced materials at Dublin City University. This year, Professor Wallace featured in our "Interesting People in Science" lecture series where we got to learn about his journey from a small lad with big dreams of soccer to NSW Scientist of the Year.
Professor Wallace also participacted in an event with the Embassy and the Science Gallery at Trinity College Dublin to talk about the exciting opportunities and ethical challenges arising from advances in science, art, design and technology. It took place at the same time PERFECTION opened at the Science Gallery which looks at perfection in a non-perfect world which originated at Science Gallery Melbourne which is part of the University of Melbourne.
Culture, Diversity and Capability Forum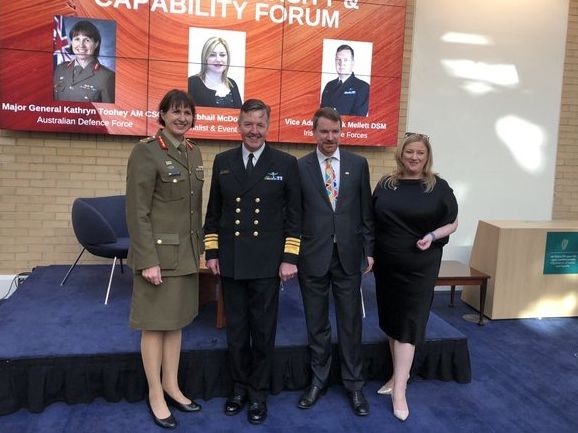 On 7 June, Australian Major General Kathryn Toohey AM, CSC visited Dublin and took part in a Capability, Culture and Diversity Forum at the Department of Justice and Equality headquarters on the Green. The Irish Chief of the Defence Forces, Vice Admiral Mark Mellett joined Major General Toohey together with former Business Editor of the Independent newspaper Group, Dearbhail McDonald.
The Forum concentrated on ways to increase the level of diversity in senior management roles across all organisation sectors drawing upon the challenges and benefits of increasing organisational diversity in the military as a lens. Thanks to all of those that are part of the Ambassador's Women in Leadership Group for coming along. The forum was just one example of how the Embassy is highlighting Australia's credentials on gender equality.
Decoration the walls of the Embassy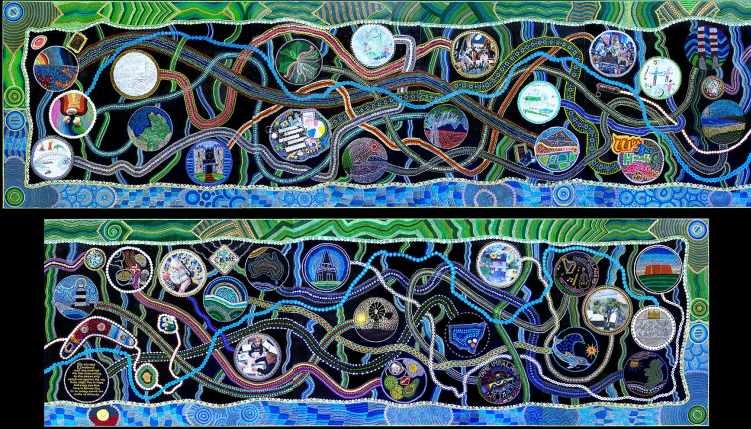 The Embassy was delighted to work with Kevin Bohan Art to come up with CONNECTED. After moving into the new premisis some of the walls were a little bare. Inspired by Kevin's artwork at Waterford Walls we commissioned Kevin to work with us to come up with a collaborative art project and CONNECTED was the result. CONNECTED is a 1m high x 6.8m wide, 29 person collaboration artwork that involved thirteen staff and family members from the Australian Embassy, one Australian/Irish family living in Dublin and two Australian/Irish families living in Australia. All took part in creating a piece of art which celebrates the long history and many connections between Ireland and Australia.
The piece was created over seven three hour workshops in Aga Szot Art Studio in Temple Bar and over 100 hours work from 28 contributors between Ireland and Australia. The piece now hangs in the Australian Embassy in Stephen's Green, Dublin.
The concept was inspired by a very famous artwork called 'Big Yam Dreaming' by the amazing Aboriginal artist Emily Kame Kngwarray. The style of the painting was inspired by the tribal art and techniques of both Australian Aboriginal art and Irish Celtic and Viking art.
A very big thank you to Kevin for all his hard work and patience in helping us to create this wonderful piece of art for the Embassy.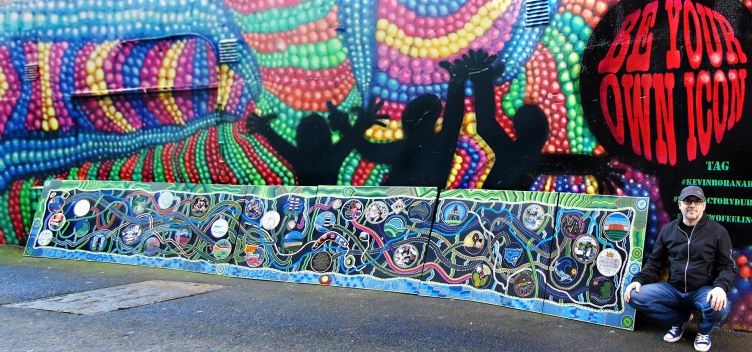 Past editions