Australian Embassy Ireland Newsletter
Aussie Eire Waves is the Australian Embassy Ireland's monthly newlsetter that connects the Embassy here in Ireland with the local community.
The aim of the newsletter is to keep you informed of past, present and upcoming events as well as interesting developments in the bilateral relationship between Australia and Ireland both at home and here in Ireland. The newsletter is not only intended for Australians in Ireland but anyone that has a link or even just an interest in Australia, its people and our connection with Ireland.
The newsletter will draw on reporting from the Embassy itself as well as from Canberra and from people like yourself that are doing interesting things in Ireland. If you know of someone or you yourself are doing interesting things in Ireland or Australian that would be of interest to the Embassy and the wider Australia community we would love to hear from you.
Current Newsletter
From the Ambassador's Desk
As a busy year draws towards its end, it's time to look back on what has been achieved and think about what lies ahead. It has been a momentous year for the Embassy, with both physical and personnel changes. We are happily settled into our new premises on St Stephen's Green, and the team, too has quite a different look, with four of our long-serving staff with whom we started the year – Sally Clarke, who retired; Paul Caball, who is now working for the Irish Government; and office manager Emma Ward and receptionist/admin assistant Erin Lee, who have found new challenges and opportunities elsewhere – having moved on. I want to take this opportunity to thank them all for the great contribution they made to the Embassy's life and work and to wish them well for the future. While sad to lose them, it is heartening to know the marketplace recognises the value of experience working for the Australian Embassy.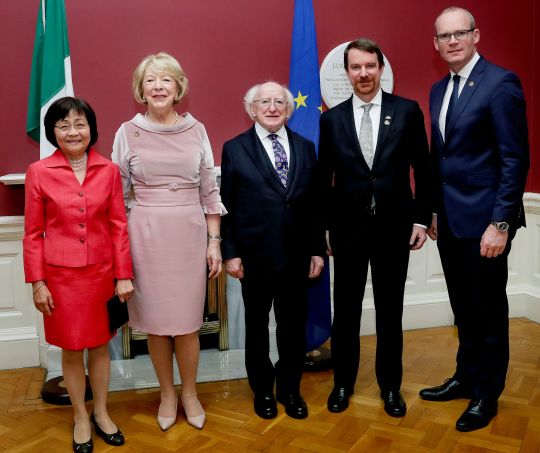 We started the year thinking it would be difficult to maintain momentum after a bumper year for the relationship in 2018. That we have done speaks volumes for the partnerships we have with key groups and individuals who contribute to the relationship at all levels. I'd like particularly to highlight and thank the Irish-Australian Chamber of Commerce, both in Dublin and in Australia; the Ireland-Australia Association, which continues its good work under new leadership; our departing Professor of Australian History at UCD, Professor Amanda Nettelbeck (featured below); those who participate in our Women in Leadership group; as well as the numerous community groups that drive activities ranging from sport, to culture and the arts, to commemoration of ancestors who migrated to Australia in one way or another. One of the joys of being a small operation here at the Embassy is that we can't sustain the illusion we can do everything all by ourselves: we love to engage with others to get things done, and greatly appreciate the assistance you give us.
Next year promises to be challenging too – with Brexit a very live issue, and the requirement for a general election in Australia by May meaning we'll be competing with lots of other issues if we want to get our messages through. But, with your assistance, we're determined to make it another great one!
Saovanee and I were honoured to attend the inauguration of President Michael D Higgins on 11 November. President Higgins has been a wonderful supporter of the relationship with Australia and we wish him and Sabina all the best for a successful second term.
With every best wish as we move towards Christmas and the New Year.
Australia's Top Farmer visits Ireland
With Australia-EU FTA negotiations moving into full swing (the second round of negotiations commenced in Canberra on 19 November) we were delighted to welcome the President of Australia's National Farmers' Federation (NFF), Fiona Simson, to Ireland on 16 and 17 November, along with the NFF's Trade Policy Director, Pru Gordon, and Nicola Hinder, who represents the Department of Agriculture and Water Resources at our Embassy in Brussels.
Fiona was warmly welcomed by her Irish counterpart Joe Healy and his team at the Irish Farmers' Association, who put on an excellent program that ensured she was acquainted with the quality of Irish produce (especially beef, scones and cream) as well as with Irish farmers. After formal discussions on 17 November, she ventured out to County Meath on 18 November for visits to Devenish Nutrition's planned agricultural research facility at Dowth, and to view a working farm at Gaulstown House.
In each place, the conversations were notable for the natural goodwill that exists between farmers from every country, with all confronting very similar challenges as they strive to create excellent, healthy produce to feed the world sustainably, and in a way that enables them also to feed their own families. As ever, the really good conversations got under way once the tea and scones came out – and the closeness of the connection was underscored when Irish farmer Ronan Delaney pulled out a didgeridoo gleaned during a working holiday in Australia!
We look forward to the dialogue continuing, and to the FTA negotiation creating still more opportunities for cooperation and collaboration between our hard-working farmers, agri-tech companies and food and fibre producers.
A time of remembrance
This time of year is always replete with commemorative events, but 2018 was special, with a bevy of events in October and early November marking 100 years since the Armistice. Supported by Australian Defence Forces personnel based in London, the Embassy has been well represented at these events – reflecting the fact that Irish and Australian soldiers fought side by side in battles from Gallipoli to the Somme, and, indeed, that many of those who gave their lives in Australian uniforms were born here in Ireland. It is always moving to recall their sacrifice, and to give thanks that, in part because of it, we have not had to endure a world riven by similar strife.
10 October marked the hundredth anniversary of the sinking of RMS Leinster by a German submarine in waters off Dun Laoghaire, just a month before the end of the War. With over 550 fatalities, this was the most deadly incident to occur during the War in the Irish Sea. Seven of the dead were Aussies, as were a number of the survivors. The Embassy was represented at a concert to mark the occasion, and the Ambassador and our Defence Attaché, Colonel Sue Graham, attended a moving commemoration in the forecourt of the DLR Lexicon in Dun Laoghaire on the anniversary itself. Additionally, Dr Jeff Kildea, author of the book on ANZACs and Ireland presented a paper at a related seminar telling the story of the Australians involved.
Centenary commemorations of the end of the First World War were prominent in early November, with the Embassy deploying widely. The Ambassador attended the launch of the striking statue of "the Haunting Soldier" in St Stephen's Green on 4 November, and of the "Leaves from Heaven" exhibit at St Patrick's cathedral. On Armistice Day he laid a wreath at the official Irish Government ceremony at Glasnevin on Armistice Day, as well as attending the Royal British Legion's service at St Patrick's Cathedral; Deputy Simon Mamouney laid a wreath at the annual event at Trim; and Consul Therese O'Meally did the same at the event at the Irish National War Memorial Gardens at Islandbridge.
Consistent with our experience at ANZAC Day events, which have grown each year, it has been heartening to see the increased respect being paid to the memory of men and women who gave their lives in the service of their country when it was controversial to do so; and the increased recognition, through honoured participation of representatives from both sides of the conflict, that everyone is a victim when wars occur.
Hurling heads Down Under
In advance of the GAA heading down under to host the first ever inter-county hurling match played in Australia the Australian Embassy hosted a media launch event. The Galway Tribesmen and Kilkenny Cats recently played in Australia as part of the 2018 Sydney Irish Festival, taking the magnificent sport of hurling to Australian audiences. Present at the Embassy were hurling players Cillian Buckley (Kilkenny) and Padraic Mannion (Galway) together with the Ambassador and GAA President John Horan. Prior to the media event, people in St Stephen's Green were walking by with surprise as hurlers were involved in a photo shoot with a few of the Embassy's Aussie props, including our kangaroo surfboard and inflatable kangaroos! Our two countries' love of sport make us natural partners in many ways and the GAA's choice of the Embassy for their media event only reinforces these close links. At the conclusion of the event the Ambassador was presented with a custom decorated hurley to commemorate the Wild Geese Trophy event.
Keith Cameron Chair of Australian History
Based in the School of History at University College Dublin, the Keith Cameron Chair began life in 1985 through an endowment by the Commonwealth of Australia and the family of Dr Tony O'Reilly. In 2006 it was re-endowed by then-Prime Minister John Howard in acknowledgement of Ireland's unique importance in Australian history and culture. The current occupant of the Chair is Professor Amanda Nettelbeck from the University of Adelaide. In her words "I arrived in Dublin on the last day of 2017 to take up my position as the 15th Keith Cameron Chair in Australian History. In carrying forward the long tradition of teaching Australian History at University College Dublin, I've gained greater insight into the really strong synergies which bind Australian and Irish histories together, and which continue in our countries' ongoing social, economic and cultural connections. I've been delighted by the way Irish students have engaged deeply with Australian history and discovered new ways to elaborate on its parallels with Ireland's own past.
History is a wonderful discipline not only for examining the shared past, but also for reflecting on shared debates and common concerns about national identity in a globalised world. I've particularly loved working with the Australian Embassy this year to explore these commonalities in greater depth. We've had many opportunities to host a range of visiting Australian speakers who have come together with Irish counterparts to discuss subjects as diverse as constitutional change, human rights, understandings of regionalism, and means of reconciling with historical injustice. As Ireland continues to move through its Decade of Centenaries, the avenues of comparison with Australia's debates about history and historical remembrance are richer than ever. It's been my privilege and very great pleasure to have been Keith Cameron Chair of Australian History in 2018, and I thank everyone at the Australian Embassy and the School of History at UCD, all of whom have made me feel so welcome and helped to make 2018 such a rewarding year."
At the Embassy we would particularly like to thank Professor Nettelbeck for all the energy and enthusiasm that she has put into the role, including giving the main address at the 2018 ANZAC Day ceremony at the Grangegorman Military Cemetery.
Schoolboys rugby coming to Ireland
With rugby fever at an all-time high across Ireland after a thrilling 6 Nations Grand Slam, an exciting tour Down Under vs the Wallabies this summer and the historic win at home vs the All Blacks, we are delighted that 27 of Australia's most promising young rugby players will be visiting these shores later this month to take on the best of the Irish!
The Australian Schoolboys Rugby team will be touring Ireland from 25 November taking on Munster Academy down in Limerick; Ulster Academy up in Belfast and culminating in a showdown vs the Irish U19s in Dublin. Amidst all the great rugby we hope that some great friendships between the teams develop as well as memories to last a lifetime.
The Embassy wishes all the players the best of luck and can't wait to see these young Aussies representing the gold jersey with pride! We encourage everyone to support the boys at all the games – details below and more information about tickets will be shared on social media.
Australia v Munster Academy, 30 November
Australia v Ulster Academy, 4 December
Australia v Ireland U19s, 8 December
Did you know the Wallabies are the only team to defeat the Ireland National Rugby team in 2018? Here's hoping for more of the same on 8 December!
Melbourne Cup at the Embassy
On the eve of the running of the Melbourne Cup in Australia there was a slight pause in Ireland for the Embassy Melbourne Cup. A family friendly event, the event saw over 50 kids and big kids alike come to the Embassy and participate in the unique racing events. Australian food was served, which included sausage rolls, lamingtons, pavlova, cheesymite scrolls and Australian hibiscus flowers in non-alcoholic pear cider. Guests were able to race the handmade wooden horses on our specially laid Embassy racetrack. There were two categories for kids and five heats for adults with a final to determine the overall winner. 10yo race winner Maya McDoughall put all the adult competitors to shame and claimed overall first place. It was a fun evening to introduce (and reacquaint some) guests with Australia's most famous horse race and prove not all Embassy events need be so formal!
Consular Corner
The Embassy is committed to promoting discussion and greater awareness and understanding of indigenous Australians, their culture, and contemporary issues in Australia. It was therefore appropriate that for the first public event in our new Chancery, a welcome for the Diplomatic Corps in early June, we were able to feature the skills of an excellent Aboriginal performer, Chris Williams, on the trumpet and didgeridoo. Chris, whose visit was generously sponsored by QANTAS, also gave a number of talks to schoolchildren on indigenous Australian culture at schools and at the National Concert Hall.
Are you planning to escape the cold weather and travel back to Australia over the Christmas and New Year period? If you are an Australian Citizen remember you need to enter and leave Australia on your Australian passport so now is the time to check to see if it is still current and ensure it has at least six months validity left.
To renew your passport or apply for one please go to our website: https://ireland.embassy.gov.au/dubl/Passports.html and make a time to come in and see us. Once we see you and have all the information it will take around 3-4 weeks for your passport to get to you, so don't leave it too late!
Spotlight on an Amazing Aussie in Ireland
Lloyd Barber, music promotor and a professional drummer with 25 years experience who as a massive Thin Lizzy fan moved to Ireland 22 years ago www.lorproductions.eu
5 words that describe what Australia represents or means to you: Never ending summers – Outback – Barbecues – Mates - Amazing wildlife
An Australian figure that you would like more people to know about: Fred Hollows - legend
Your Aussie Desert Island survival kit:
One Australian song – Bow River
One Australian book – Leroys Big Adventure
One Australian movie – The Castle
One Australian food item – The Meat Pie
One Australian luxury item – Carton of Boags Premium
Your top recommendation for a first time visitor to Australia:
Rose Bud café Victoria for the best Vanilla slices in Oz
Hobart for the best scallops pies and beer in the world.
Mt Wellington – Tassie for best view in Australia
The Hinterland- lush beyond belief
The Outback- Hard land - hard people with hearts of gold
Bay of Fires-Tassie
Adelaide Hills and surrounding wineries
The Rocks and Sydney Harbor- just wow!
Sunshine Coast- Paradise
Your life philosophy and/or a life-changing changing moment you experienced in Australia:
Deciding on a whim to visit Ireland for a weekend...turned into a 22 years chapter…
Life is short- don't get hung up on the small things
My favourite quotes that I use:
"It's not what you start ….it's what you finish"
"Self praise is no praise"
And my favourite from Socrates - "Know thyself "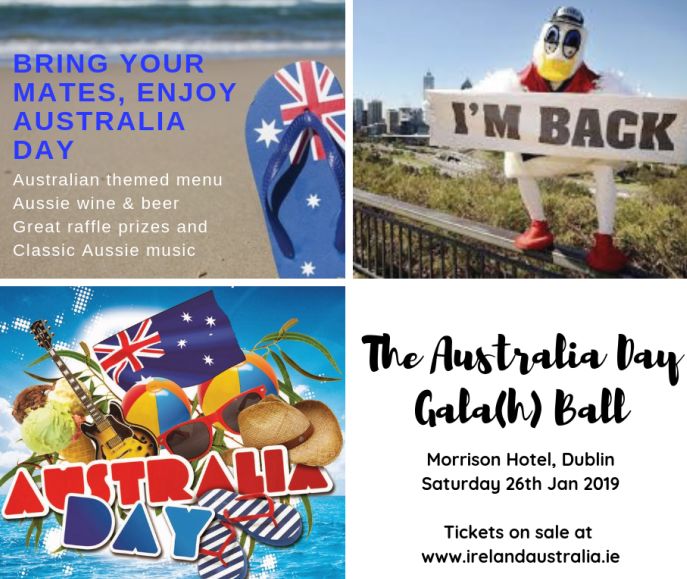 BACK BY POPULAR DEMAND….
The Australia Day Black Tie Gala(h) is returning to the City Centre. Hosted by the Irish Australian Association and supported by our Patron, HE Richard Andrews and the Australian Embassy Ireland. The Annual Gala(h) Ball is a celebration of our Australian culture, right here in our "home away from home". The ball provides a unique opportunity for blokes, sheilas and leprechauns alike to cast aside their dungarees and gold, for a slightly more sophisticated night of celebrations, to strengthen the Australian Irish partnership and to cultivate new and long standing mateship. Our aim is for you to enjoy an evening inspired by Australiana crafted food, wine and entertainment.
SAVE THE DATE - January 26, 2019:
The Morrison Hotel, Dublin 1
6:00 pm till 1:30 am
Tickets on sale via www.irelandaustralia.ie
MORE ON OUR LATEST EVENT …
Recently we held our annual Melbourne Cup Quiz at the "51" Pub where over 50 "punters" attended.
The "IAA brains trust" put forward some curly questions this year, which saw last year's runner up team take the win by a hefty horse's length! A big thank you to all who attended, well done to the winners and those that won the raffle prizes from Teelings' Whiskey, Veuve Clicquot, Liberty Wine and the rissoles meat tray from Fallon & Byrne. Don't be a Galah, see you on Australia Day!
For details of our events or to get involved visit www.irelandaustralia.ie
The Irish Australian Chamber of Commerce
The Irish Australian Chamber of Commerce has had a busy few months. Its membership has grown to 37 foundation and corporate members and 28 individual members. It has recently expanded its board which now comprises Peter Oakes, President, Vincent Crowley, Vice President, Julie Fenton (Partner Forensic & Integrity Services, EY), Blaine Callard (CEO, Harvey Norman Ireland), Simon Mamouney (Australian Embassy) and David Greene (Principal Policy Officer Queensland Government and Vice President of IACC in Australia), together with our patron, the Ambassador.
The next big event in the Irish Australian Chamber of Commerce's calendar is the return of our flagship Australia Day Corporate Lunch on Friday 25 January 2019. It will take place in the Hogan Suite in Croke Park. Michael Lynagh, Managing Director Dow Jones and breaker of Irish rugby supporters' hearts in the 1991 Rugby World quarter final, is our guest speaker. The Australian ambassador, our patron, will be attending along with several international guests. Australian wines will be served as well as a few other surprises from Australia. The event was a sell-out last year and was enjoyed by all. Tables can now be bought by foundation and corporate members now with the public sale commencing soon. Pre-sale invitations have been sent out to foundation and corporate members. https://www.australianchamber.ie/civicrm/event/info?reset=1&id=25
The Chamber looks forward to seeing you all at what promises to be a memorable lunch!
Out of the Woodwork
No one day in the Embassy is the same. For example, recently the Embassy was contacted by the GAA about bringing hurleys into Australia for the 2018 Sydney Irish Festival for the match between Galway and Kilkenny. Apart from explaining to officials in Australia exactly what a hurley is, to ensure that there were no unnecessary obstacles or delays on the teams' arrival in Australia, Australian officials from four cities (Dublin, Brussels, Canberra and Sydney), across two departments (Agriculture and Foreign Affairs and Trade) and three divisions (Trade and Market Access, Biosecurity Plant, and Biosecurity Operations) worked together to facilitate the arrival of the sticks. These areas worked together to provide advice on documentation and declarations for bringing sporting goods into Australia, requirements for sticks to be clean and free of soil, grass and other biosecurity concerns, and ensuring that duty staff at airports were aware of the arrival of this important cargo. One of the many ways we work behind the scenes to protect Australia's unique pristine environment while bringing the world to Australia.
Upcoming Events
30 November 2018 - Australian Schoolboys v Munster Academy, Limerick
4 December 2018 - Australian Schoolboys v Ulster Academy, Belfast
8 December 2018 - Australian Schoolboys v Ireland U19s, Dublin
25-28 December 2018 - Embassy closed for Christmas
1 January 2019 - Embassy closed for New Years Day
25 January 2019 - Irish Australian Chamber of Commerce Australia Day Corporate Lunch
26 January 2019 – Ireland Australia Association Galah Ball
25 April 2019 – ANZAC Day Dawn Service – Grangegorman Military Cemetery
To include an event on this calendar send us an email - Austremb.Dublin@dfat.gov.au
Past editions