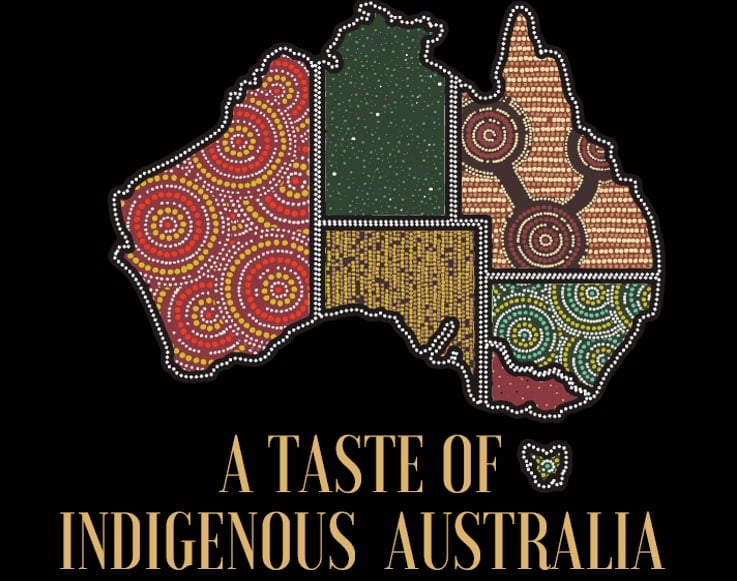 Indigenous Australia comes to Ireland
Message from His Excellency Richard Andrews, Australian Ambassador to Ireland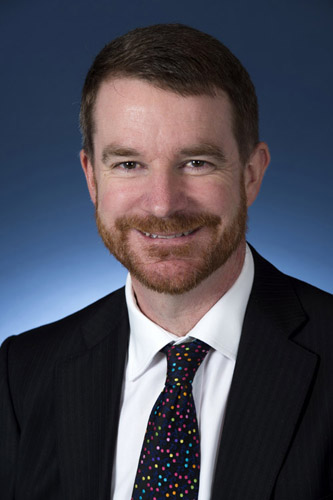 This year, Indigenous Australia is coming to A Taste of West Cork & Dublin!
A team of four Australian Aboriginal chefs from the National Indigenous Culinary Institute, led by the Bourke brothers of Sydney's renowned "Rockpool" restaurant will bring with them menus devised under the guidance of master chef Neil Perry, using top quality Aussie "bush tucker" ingredients.
The traditional ancient ingredients in these dishes will be complemented by fabulous, sustainably produced modern wines from across Australia from a wide variety of grapes nurtured by our warm climate and diversity of soils – many produced by wineries with strong Irish connections.
Firstly, the chefs will take part in a number of high profile cooking engagements at A Taste of West Cork. This festival highlights the love and knowledge the people of West Cork have for their own place, their pride in the quality of the fruits it bears, and their commitment to managing their land sustainably for the future. These are values Australia's Aboriginal people have held for over 60,000 years, and of which Australians today remain proud. We look forward to celebrating our shared commitment to them during this ground-breaking visit.
Following this, the chefs will lead an exciting programme of events in Dublin & Wicklow, further celebrating the diversity and richness of Australian cuisine - and we want Australia to contribute to the evolution of Ireland's culinary landscape.
We want this experience also to be about building a lasting partnership for the future. Australia's food scene is special because it celebrates our nation's diversity and ability to embrace the new and the different. It brings together all of the elements of our successful multicultural society into something unique in its own right; and it continues to evolve.
Every new influence adds to its richness. For more than 200 years, Irish people have had a major role in the building of Australia as it is today. We want Twenty-First Century Ireland – and especially West Cork – to be an ongoing part of the story of our national cuisine –Experiencing fine food and wine is fundamentally about friendship, understanding and connection. By sharing our cuisine, we open a door to our culture. We hope you will walk through that door!
Guest Chefs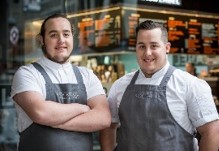 Luke Bourke & Sam Bourke - Australian twins
Luke Bourke (from Rockpool Bar and Grill, Sydney) and Sam Bourke (from Rosetta, Sydney): both Luke and Sam are from the Palawa people of Tasmania and grew up with the western suburb of Sydney, Penrith. Both graduating to become qualified chefs in 2017, Sam and Luke follow in the footsteps of their older siblings. Having shown great leadership skills throughout their apprenticeships, both Bourkes are currently Sous Chefs in their restaurants of Rosetta and Rockpool Bar and Grill under the guidance of Head Chefs Richard Purdue (Rosetta) and Corey Costelloe (Rockpool Bar and Grill) overseen by National Indigenous Culinary Institute founding culinary guardian Neil Perry of the Rockpool Dining Group.
Joining Luke and Sam will be apprentice chefs DAVID GRAY (Café Georgio) and JOSHUA MOORE (Bistro Guillaume).
David is from the Cherbourg Aboriginal community of the south east region of Queensland and from the Kullilli and Birri-Gubba peoples. David has had a passion for cooking from an early age and his professional goal is to 'own a small business in hospitality and mentor younger Indigenous and disadvantaged youth of all walks of life.' Joshua is from the Kunja and Barkindji people of Western NSW and an Aboriginal community located in the outback town of Bourke NSW. He is in his final year of as an apprentice at Bistro Guillaume under the guidance of acclaimed chef, Guillaume Brahimi. Joshua's career highlight so far is being a part of the team that cooked for French President Macron when he visited Sydney.
All four chefs honed their crafts at the National Indigenous Culinary Institute (NICI) in Sydney. Established in 2012, NICI is an industry inspired and initiated charitable organisation of national significance to create highly skilled Indigenous chefs, originally designed by Neil Perry, Guillaume Brahimi, Michael McMahon, Jill Dupleix, Terry Durack and Barry McDonald. NICI offers elite training and experiences for aspiring Indigenous chefs who will be trained and mentored by Australia's leading chefs at host restaurants, Rockpool Bar and Grill, Bistro Guillaume, Catalina, Rosetta, The European, Movida, Icebergs Dining Room and Bar and more within Sydney and Melbourne.
West Cork Program: 5 September - 10 September 2019
Thursday 5 September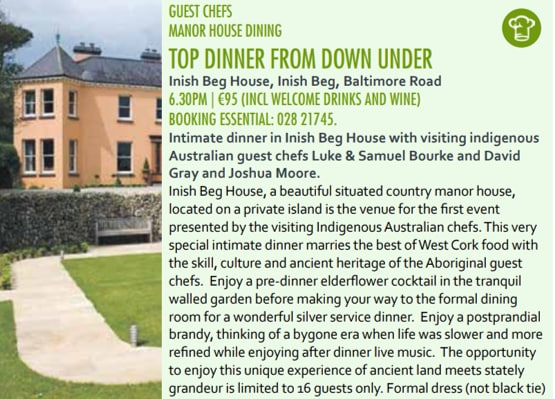 Friday 6 September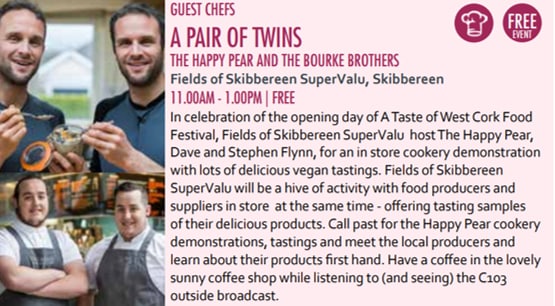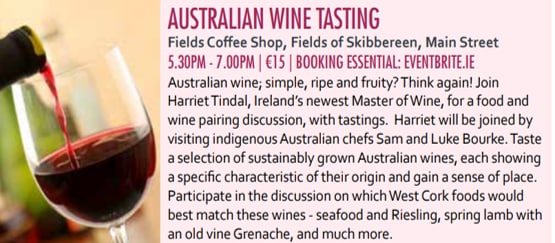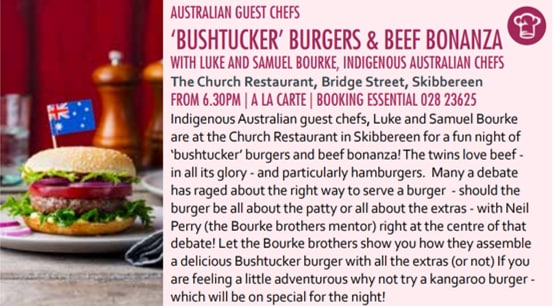 Saturday 7 September

Sunday 8 September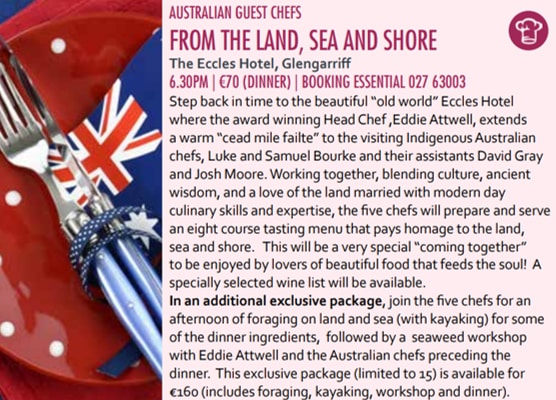 Monday 9 September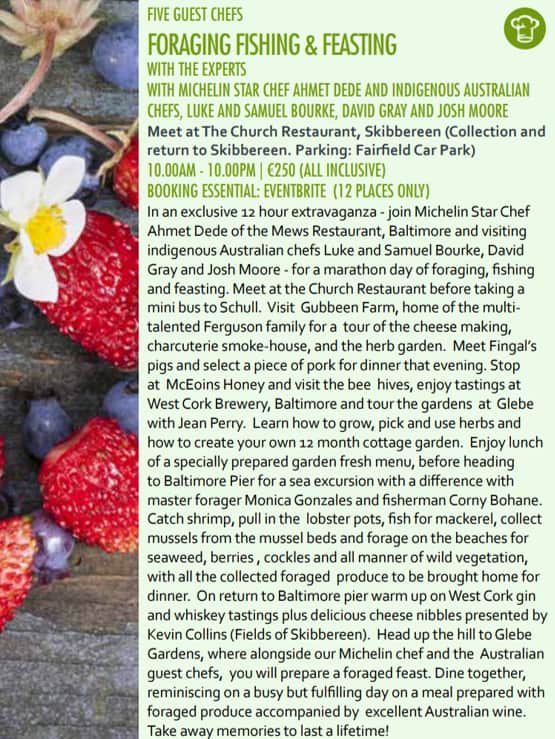 Tuesday 10 September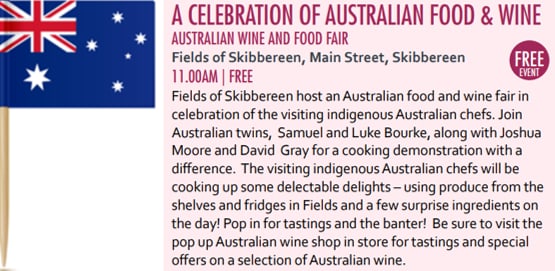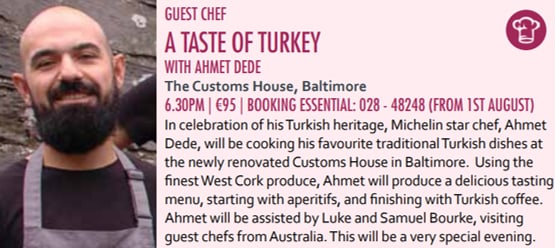 Leinster Program: 11 September - 14 September 2019
Wednesday 11 September

Thursday 12 September

Friday 13 September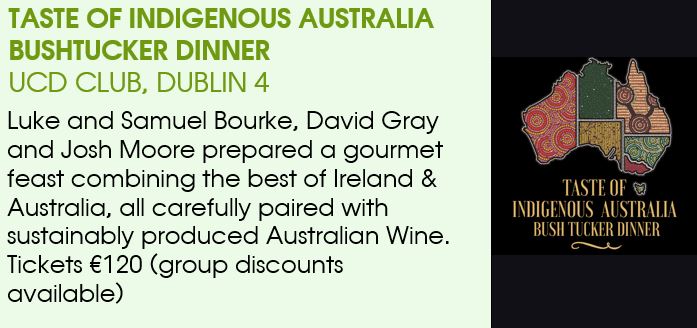 Saturday 14 September

A Taste of Indigenous Australia Sponsors